"Dancing with the Devil…The Art of Starting Over"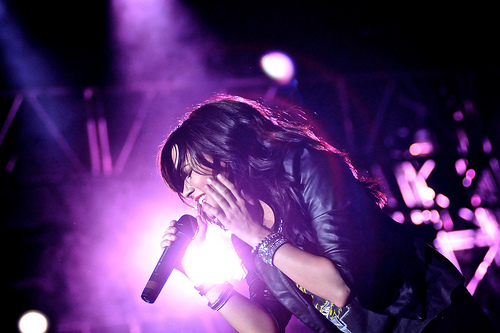 Demi Lovato recently released "Dancing with the Devil… The Art of Starting Over," her seventh studio album, following the release of her documentary. The singer covers various topics from her substance abuse struggles, her 2018 overdose, eating disorder struggles, heartbreak and acceptance.
The album track list is split up in an interesting way I haven't seen from her before. The first track on the album is "Anyone" which was written after Lovato's overdose and lyrically expresses the painful loneliness she was experiencing. "Anyone" was the first song Lovato sung live after her overdose, and she gave an emotional performance of it at the Grammys in 2019.
"Dancing with the Devil" is the second track and the title track of her documentary. The song takes listeners through the details of the night Lovato overdosed and lyrically tells the heartbreaking story, while showing it visually in perfect detail in the music video.
The video for this single was planned down to every single detail – down to the exact outfit Lovato was wearing that night. "Dancing with the Devil" tells the story of the overdose, and the following track "ICU (Madison's Lullabye)" describes the aftermath.
"ICU (Madison's Lullabye)" is dedicated to Lovato's younger sister, Madison De La Garza, with "ICU" being a double meaning. When Lovato woke up in the hospital, she was legally blind and couldn't see or recognize her sister sitting next to her bedside.
In 2017, Lovato revealed that De La Garza was the main reason why she wanted to get sober in the first place. The track is beautifully sad lyrically and shows her love for her relationship with her sister.
After these three somber songs, "Dancing with the Devil" reveals the person Lovato strives to be. The intro is a snippet of Lovato describing her will to leave the past behind her and to start life over with a clear purpose of becoming a happier and healthier person.
Many songs have the same central meaning of shedding her old skin, rewritten endings, and multiple references to reaching heaven. "The Art of Starting Over" rides on a positive and uplifting beat about ending her patterns with addiction.
"Melon Cake" is about Lovato being free to make her own choices and live her life the way she wants to. Lovato's team of people around her controlled every move she made, including what she was allowed to eat. She wasn't allowed to have real birthday cakes for her birthday, for years she was allowed only melon cakes.
A melon cake is a cylinder of ripe watermelon frosted in fat-free whipped cream and topped with sprinkles and candles. For such a dark topic, the sound is very light and bouncy. Lovato adds a message to her younger self in this track saying, "I'm sorry that it took so long but baby you're free."
"Met Him Last Night" was written by Ariana Grande and she wrote the track with Lovato in mind. Lovato played Grande the album's title track "Dancing with the Devil" and then Grande wanted to help tell Lovato's story, by writing a song inspired by her.
The structure of the song and the way the harmonies blend together are angelic and powerful. Most of the tracks on the album aim for catharsis, but "Met Him Last Night" describes both women experiencing lost innocence and deception in the shadow of "him," apparently Satan.
"Carefully" is about Lovato using transparency as her strength in her songwriting, and this song is an example of that.
The message of the song is about Lovato asking to be handled with caution by a partner, because of everything she has experienced. It sonically deserves its spot on the album, but it doesn't shine as bright as other tracks.
"15 Minutes" describes someone essentially being with Lovato to get a quick "15 Minutes" of fame. The song is her message of good riddance to her past lover, which some fans think is her ex-fiancé, Max Ehrich.
The most obvious reference to Ehrich comes in the bridge, when Lovato repeatedly sings, "Prayin' in Malibu," before changing the lyric to, "Crying in Malibu… While you were looking for your 15 minutes." After their breakup in 2020, Ehrich was photographed by paparazzi crying on the Malibu beach where he had previously proposed to Lovato.
"Good Place" wraps up the album and Lovato closes out the album showing that she has come out stronger as the song starts with Lovato singing, "I've been called an emotional disaster / By myself and by so many other after / I had trials and tribulations mastered / Tune it out with a little bit of paint and plaster."
Throughout the whole album, each track had intense harmonies and chord progressions, but on the last track everything is stripped away and it's a very personal testimony to Lovato's strength and perseverance. "Dancing with the Devil… The Art of Starting Over" lays out Lovato's story and the truth behind her struggles and addictions in an extremely blunt way.
Many artists don't like to get as personal as Lovato but laying everything out on the line is what works for her. Lovato thrives off of sharing her experiences in her music and it allows her fans to get a glimpse of her life and relate with her on an extremely personal level.