Nearly Naked Mile was held Monday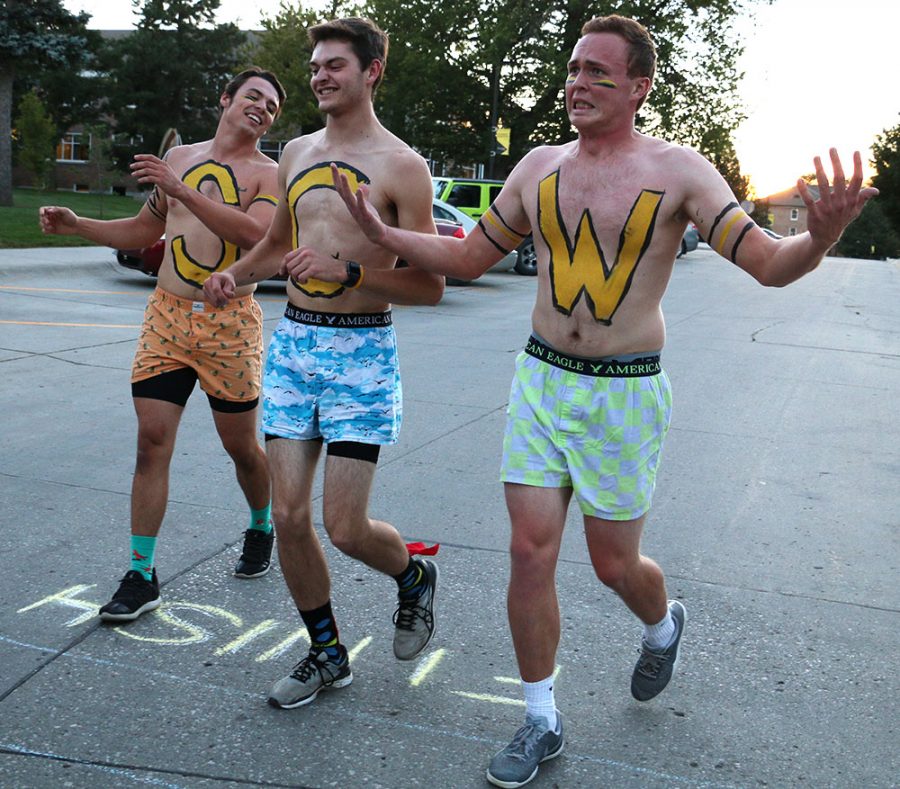 Noah Schlekeway, Staff Writer
November 5, 2020
The Nearly Naked Mile took place Nov. 2. for all Wayne State College students to run in.  
The event was originally supposed to take place on Tuesday Oct. 27th but due to the bad weather the event was postponed until the 2nd. The event is put on by the Wayne State College Student Senate and the Philomatheans. The event usually takes place during homecoming week, but due to COVID-19 that was unable to happen. But the student senate and Philomatheans decided they still wanted to hold the event. They donate clothing to local children and families.  
To enter the one-mile run, students had to donate one piece of clothing. They also had prizes that they could compete for. Prizes were awarded to the fastest male, fastest female, best dressed, and most clothes donated. The winner of each of those categories was able to win a $25 cat cash gift certificate.  
Every year there is a different number of students that come out for the event. WSC Student President, Adam Smith, and President of the Philomatheans, Natalie Gasseling, are really hoping students come out for the event this year.  
"We have had as many as 40 students in years past," Smith said.  
"Part of the reason that we moved the event from last week to this week was because of the nicer weather," Gasseling said. "We are hoping that more students come out to run this week than they would've last week." 
The Nearly Naked Mile is a homecoming tradition every year at WSC. 
"Students should run in the nearly naked mile because it is a fun event that is free for students to participate in," Gasseling said. "Our nearly naked mile typically takes place during homecoming week, but due to COVID-19 that is obviously not happening this year. We did not want this cancellation to be carried out for all events. We thought by still hosting the Nearly Naked Mile, students would have the opportunity to participate in a fun activity."  
Smith also believes that the run would be a great opportunity for students and their friends to have some fun running and hanging out together.
"Students should participate because it is a fun event that anyone can participate in since it is a run/walk. It's a great way to have a good time with your friends while being able to give back to the community," Smith said.