Affordability, tight-knit community credited for enrollment increase at WSC
Wayne State College has had an enrollment increase over the last few years. Some of the main reasons are due to the low tuition price, small-town atmosphere and the campus tours.
Freshman Nathan Gusman said that he felt as though many people appreciate the cost of Wayne State compared to the other schools around the area. Gusman said that even with a scholarship to go to the University of Nebraska-Lincoln, it was cheaper to attend WSC.
According to the Wayne State College website, one reason for Wayne State's affordability is because of its ability to offer in-state tuition for students in the surrounding states with a GPA of 3.25 or higher, ACT score of 22 or better, or graduate in the top 50 percent of their class. In-state tuition makes the school look even more appealing for out-of-state students and makes it affordable for many people. In-state tuition helps make secondary education at Wayne more of an option for students who can't afford higher priced colleges.
In-state tuition can also be offered to foreign students as well. Sophie Pascoe, a sophomore foreign student from New Zealand, was offered in-state tuition as part of a tuition agreement with the college when they recruited her for the women's lacrosse team.
"Wayne approached me and offered me in-state tuition; nobody else even suggested it for me," Pascoe said. "I was also approached by one of the schools in Utah, but I was against it because it ended up being super expensive."
Pascoe said that she was under a lot of pressure to do well in the United States after making such a large commitment to go to school there and that the friends and professors she met during her first year made the decision to come back easy.
"When I first got here, I made so many friends and everyone was so nice," Pascoe said. "I built really nice friendships and really enjoyed the environment Wayne has."
Wayne State is a school that offers a small town feel and a tight-knit community. Wayne State College has an appeal to students who want a welcoming environment along with a thriving campus. Junior Miranda Trowbridge said how much she loves the way the campus feels and how welcoming it is.
"I took a tour and the campus size really helped my decision," Trowbridge said. "Everyone was really nice, and I really appreciated how the professors wanted to know my name."
Trowbridge also talked about how the class sizes at Wayne State reminded her of her high school and helped her feel more comfortable with her college classes.
Students often cite campus visits as the reason they chose Wayne State College. This is something that many students refer to when discussing the feel of the school and how that played a big part in their decision.
For freshman Samuel McPhillips, the decision was almost made for him. Even though he had pressure from his family to visit Wayne, once he got a tour he felt as though it was the right place for him.
"I just decided it was the best fit for me," McPhillips said. "I love the small feel, that feel kind of spoke to me."
For McPhillips, Wayne is all in the family. He currently has one sibling attending Wayne State and two others who are graduates. McPhillips said that his decision to come here was influenced by his siblings, but that he ultimately made the decision for himself after his visit.
About the Writer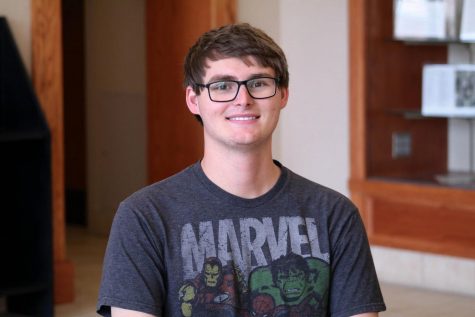 Mark Albers, News Writer
Mark Albers is a senior at Wayne State College majoring in electronic media with a minor is digital film. He aspires to be a producer and create TV shows...