Wildcat football making the most of canceled season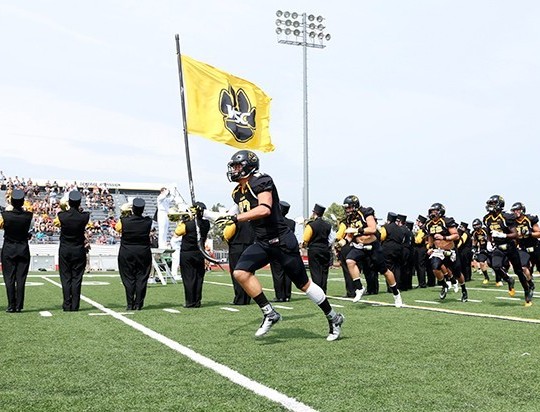 Wayne State College football remains canceled for the 2020 season despite the Big Ten's recent decision to resume its football season.
"I am excited for the Big Ten as a fan," WSC's athletic director Mike Powicki said.
But the decision in the Big Ten has little effect on WSC athletics. Starting Oct. 24, teams in the Big Ten conference will continue with the 2020 football season. Teams will compete in eight games during the delayed season and will be taking precautions against COVID-19, according to ESPN article titled "Big Ten football to resume weekend of Oct. 24."
Adam Rittenberg and Heather Dinich, ESPN senior writers, said Big Ten schools will begin COVID-19 rapid testing Sept. 30 and test each athlete daily. Regulations have been set using percentages to assess team health and their ability to compete.
Powicki said Division I schools in the Big Ten are well established and have the resources needed to proceed with the football season. While WSC is working on obtaining similar resources, they do not currently have the resources to perform rapid testing for their athletes.
According to Powicki, the Big Ten's decision may be able to help smaller universities by continuing to normalize what is going on and show people there is a way to do this safely. Until then, Wayne State fall athletes continue to practice while following the rules and guidelines set by the Northern Sun Intercollegiate Conference.
The football team has been able to practice, whereas some schools are not even allowed to lift weights.
"However much you want to complain about something, there's always somebody that has it worse," WSC head football coach John McMenamin, said.
Even during this time without competition, the team continues to work to improve their skills in preparation for future competitions.
"Not every school will come out of this even," McMenamin said. "It will really hurt some programs and has potentially the chance to help others, and I think we will be one that we definitely take a giant step forward."
McMenamin said the team is being cautious and taking necessary precautions both on and off the field to ensure the safety of players, coaches and fellow students. By breaking the team up into specific groups during practice, the coaches and staff can do a better job of tracing contact between players and keeping contact numbers low.
McMenamin is slightly jealous of teams that can play but is excited for them.
"I'm just glad some football is being played somewhere," McMenamin said.