Here's what some athletes and coaches are doing without sports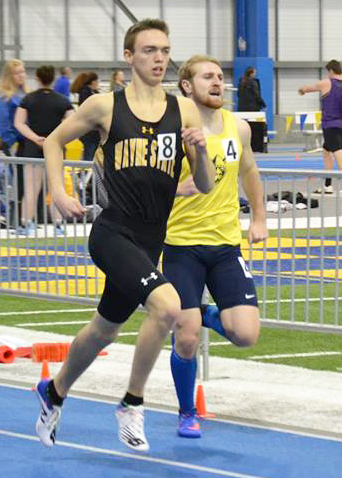 So, what are student athletes doing now that athletics are cancelled and school is all online? Speaking for myself, as a graduating senior student athlete, I have been doing a lot of nothing. I never thought I would miss the rigorous student-athlete schedule until COVID-19 came through and turned everyone's worlds upside-down.
Since the NCAA cancelled all remaining spring athletics and Wayne State went fully online, a lot of students packed up their things and headed off to their home towns. This story is slightly different for some student-athletes I talked to that currently still live in Wayne.
"I miss softball dearly, especially my teammates. It's weird that it is nearly the middle of April and we don't get to battle our favorite conference opponents," sophomore softball player Kortney Buresh said. "But, I will say that it is nice having some extended time off. I have officially mastered the art of TikTok"
Wayne State College announced on March 31 that the undergraduate and graduate commencement ceremonies will no longer be held on May 9 and will be moved to a later date in the summer due to the virus for the safety of students, faculty, staff and parents.
Personally, I do not mind this statement and decision made by the college. Some schools around the country have completely cancelled their commencement ceremonies. I think if Wayne were to have completely canceled this ceremonious event there would be loads of backlash.
Other annual events that were cancelled due to the virus was the WSC football spring ball season led by new first year head coach John McMenamin. This year Wayne State was expected to host multiple spring ball events.
"It is a bummer we would get to play our spring ball season, I was really looking forward to it with the new staff. All the guys have been training hard leading up to this, including early morning weights and conditioning to prepare us for next year with a new coach," said junior football athlete Soren Jensen. "I know all of us guys are still training even tho we are no longer on campus, a lot of medication goes into this and were all determined to improve from last year. We had great energy and mindset to have a great start in the fall.
A decent amount of student athletes are still staying in Wayne to utilize the athletic facilities and to take advantage of various part time job opportunities that are available around Wayne. For some athletes it is far safer to stay in Wayne rather than their home states due to the fact that the town of Wayne still has only one confirmed case as of April 11.
"I am currently staying in Wayne to use their athletic facilities for weight lifting, conditioning and working on soccer specific skills because everything back home for me in Colorado is closed," said junior soccer athlete Rylie Wehner. "Some of my teammates are in Wayne along with other athletes that I am friends with and we occasionally work out together. It is nice being able to still train and with athletes outside of my sport."
Personally, there is a sense of peace living in wayne during this tough time. It gives you a chance to focus on your schooling and training since all of us athletes are basically in off-season. It is important for everyone to keep their hands washed and to continue to practice safe social distancing during this time- even if that means conditioning six feet apart from your teammates.