Two WSC track and field athletes earn high results after conference meet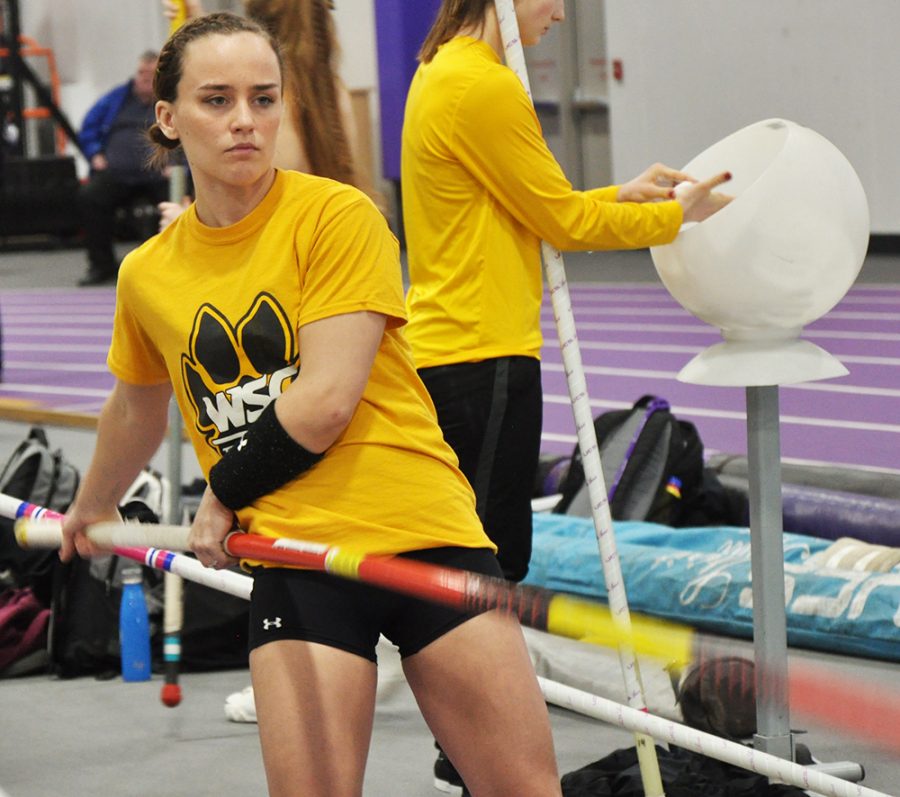 Whitney Winter, Staff Writer
March 4, 2020
McKenzie Scheil and Cade Kalkowski both earned All-NSIC honors in weight throwing at the Division II Northern Sun Conference Indoor Track and Field Championships in Mankato, Minnesota, on Feb. 28 and 29.
Head Coach Marlon Brink said Wayne State College women's team was in sixth place with 16 points on the first day but finished 10th place out of 15 teams with a total of 22 points. Men's team placed sixth with 15 points on day one and finished ninth out of 12 teams with 22 points.
Scheil, a sophomore from Fairmont, captured the NSIC title in the 20-pound weight throw with a season-best mark of 63' on the opening day of the conference. She earned third place finish in shot put at 46' 11 ½" to earn All-NSIC honors in a second event.
"I really enjoy the technique behind throwing it's something you have to work at til it's perfect," Scheil said. "This has been a great start to the season, indoor is basically the pre-season to outdoor. I enjoy outdoor much more. But I'm excited to go to Alabama and compete at nationals over spring break."
During the 2019 outdoor season Scheil was an NCAA Division II All-American after recording a season-best mark of 182' 10" in hammer throw and was named NSIC Women's Field Outdoor Athlete of the Week on April 1, 2019, after winning the hammer throw at 173'8" and hitting 45'10" in shot put. Scheil earned All-NSIC honors at NSIC Indoor Championships during 2019 indoor season.
Mikayla Marvin placed fifth in the pole vault clearing 11'2 ¾" on opening day at the Northern Sun Conference.
"I have gotten stronger so I am able to get on new poles but we have not always had poles available," Marvin said. "This challenge has caused me to work on my form and it has gotten much better. Everyone that I compete with in my event is very friendly and there are so many things involved with pole vault that there is always something to work on."
Marvin is a sophomore from O'Neill who broke Wayne State College records twice in the 2019 outdoor season. In the Wildcat Classic she cleared the pole vault at 10'11 ¾" and set a new school record clearing 11'9 ¾" at Jim Dutcher Memorial. During the 2019 indoor season Marvin was the NSIC individual champion in the pole vault with a new school record 11'7 ¾" and continued to break school records five more times.
Kalkowski, Dylan Kaup and Mikhail Sands all earned medals on the opening day. Kalkowski placed second with a mark of 67'3 ¼", an NCAA provisional mark, in 35-pound weight throw. The throw moved him to sixth place in NCAA Division II. Kaup placed fourth with a 62'8" finish but just missed All-NSIC honors. Sands placed seventh in long jump at 21'10 ¼".
"I was recruited here to throw the hammer but my first year I threw discus hammer and the weight throw but now I'm just strictly hammer and weight," Kalkowski said. "What I enjoy the most is the satisfaction of seeing a good progression in my training leading up to the conference and national meets. So far in the season, it's been going pretty well I threw a PR at the conference meet which sets me up for the national meet, so I'm excited about that."
Nathan Pearson advanced to the finals in the 800-meter run with the number six qualifying time of 1:57:89.
"Honestly, there's not a lot to love about the 800-meter [run]," Pearson said. "It's relatively long, a half mile, so it requires endurance and toughness. But at the same time, it's not much further than a sprint event, so you must also have some foot speed and ability to perform under high levels of lactic acid in the muscles. But I like that challenge and it definitely makes 800 runners a unique breed. You must be a complete runner to be very good at the 800. You obviously need some endurance but, if you're not fast as well, you'll be left in the dust. I take pride in knowing that as an 800 runner I have to be strong in not just one area of running, but a lot of them."
Noah Lily placed eighth on the men's heptathlon scoring 4,619 points. The 'Cats 4×400 meter relay team of Bryce Holcomb, Preston Davis, Michael Kueny and Pearson placed seventh with a finishing time of 3:28:21.
Brink said the WSC men's team won the NSIC Indoor Championship titles in 2006 and 2007 when the competition numbers were half of what it is now. The indoor season is over according to Brink so the focus for the two teams is now on the upcoming Wildcat Classic on Friday and Saturday, March 27 and 28.