Kolbeck offers up elegant performance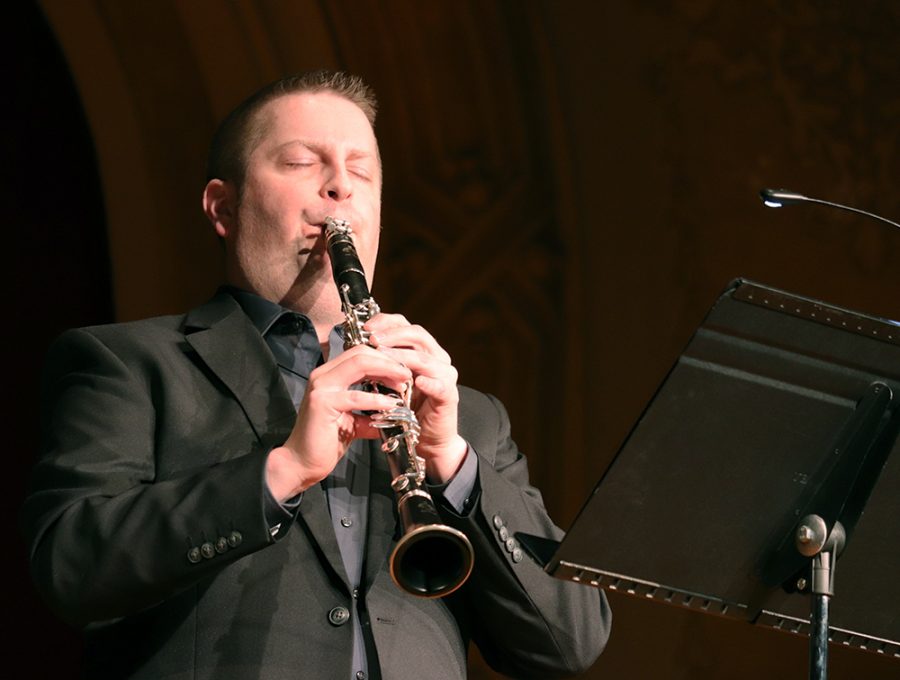 Whitney Winter, Staff Writer
February 19, 2020
Dr. Karl Kolbeck performed in the faculty clarinet recital Feb.13 on the clarinet and bass clarinet in a mesmerizing performance with pianist Shelly Armstrong.
Kolbeck performed a sonata in f minor on the clarinet composed by Johannes Brahms. Brahms was a German composer, pianist and conductor who composed the clarinet sonatas, op. 120, nos. 1 and 2, according to Hyperion Records, an independent British classical label. Kolbeck said the sonata is one of his favorite pieces of the standard repertoire for clarinet.
Brahms' sonata for clarinet and piano, op. 120, no. 1 includes Allegro appassionato, Andante un poco Adagio, Allegretto Grazioso and Vivace. On the bass clarinet Kolbeck performed a moving piece by Rick Sowash named Lullabye for Kara (2002) and Deepwood (1937) by David Bennett.
Kolbeck said he is a fan of Sowash and has performed a number of his works over the years. He said Deepwood is fun for both the performer and the audience.
"He put a lot of emotion into his playing," Julie Jones, a freshman at WSC, said.
Armstrong, a staff accompanist for WSC, paired with Kolbeck to produce a tender performance. Kolbeck began practicing at the beginning of this spring semester and has spent three to five hours every day practicing in preparation for the performance in the Ley Theatre. Hannah Leddy was the official page turner for Armstrong and a WSC piano student and music education major.
"I enjoyed the technique that Dr. Kolbeck has on the clarinet and the obvious practice he's put in to put on a great performance," McKaylla Christian, a junior at WSC, said. "Students should attend more [faculty events] because we can learn so much from our faculty by seeing them perform. If we want to be the best, we should learn and see how the best do it!"
Kolbeck holds a doctorate of musical arts and is a nationally certified teacher of music in clarinet. He teaches classes relating to woodwinds, which includes the clarinet, saxophone, oboe and bassoon. He also coaches and conducts the WSC Clarinet Ensemble and Sax Quartet.
"I enjoyed the faculty recital because it was very elegant," Amber Novotny, a freshman at WSC, said. "The pieces that were played were intriguing. I also liked how they were into every piece they played. It was very entertaining to watch. I could also tell they put a lot of time and effort into their performance."
Kolbeck began playing the clarinet in fifth grade and, while earning his master's degree, he started playing the bass clarinet. He said he is drawn to the sound and expressiveness of the clarinet.
"I currently play with the Sioux City Symphony as a substitute/extra musician, Sioux City Municipal Band, Trio Mezzklarno, Clarinet Spectrum and the Black Box Trio," Kolbeck said.