WSC class helps teach the importance of writing about family
Writing can be an accessible and streamlined process for those who have practiced. For beginners and novices, however, the words can have a hard time coming out. Fortunately for the inexperienced, a class of Wayne State College writers will be helping these students learn how to write.
Students of the English 404/501 Advanced Creative Nonfiction writing class will be teaching family writing sessions as a service-learning project at the Wayne Public Library from the end of March to the end of April.
Class instructor and WSC professor Dr. Stephanie Marcellus came up with the idea for the class.
"In the summer of 2018, I co-led a discussion of Karen Gettert Shoemaker's 'The Meaning of Names' as part of the 'Chautauqua,'" Marcellus said. "Shoemaker's novel focuses upon the importance of sharing and recording individual family stories. Inspired by Shoemaker, many of the attendees, largely community members, expressed a desire to learn how to write their family stories. From this event, the idea for this service-learning project was born."
The first session will take place on March 25 at 4 p.m. It will be an introduction to the project, along with a beginning on how to construct a family story. The next two sessions, taking place on April 1 and 8 respectively, will focus on workshopping and editing the stories. The finalized stories will be compiled into a book made by the students. The final session, on April 29, will be an open reading from the book with refreshments provided.
While this service-learning project is meant to help the community, it also will help the class hone their own writing skills.
"I believe this project will help not only myself, but the other members of the workshop," graduate student Jacob Stewart said. "Both students and community members, by giving us all a chance to work on our writing skills. [They are] an aspect I find to be of extreme importance, not only as an academic process, but also as a key element to life. The ability to write effectively is a valuable asset, no matter how you look at it."
Marcellus believes the work the students do within the class and the project is important for their own benefit as well as the community's.
"This service-learning project is designed to help students learn that helping others explore and tell their family stories is an empowering act," Marcellus said. "Everyone has an important story to tell; often the struggle is committing it to paper. As a class of writers, we can help others find the right words for expressing themselves, and, by doing so, serve the people in our community."
More information can be found on fliers around campus or through contacting Dr. Marcellus through her email at [email protected]
About the Writer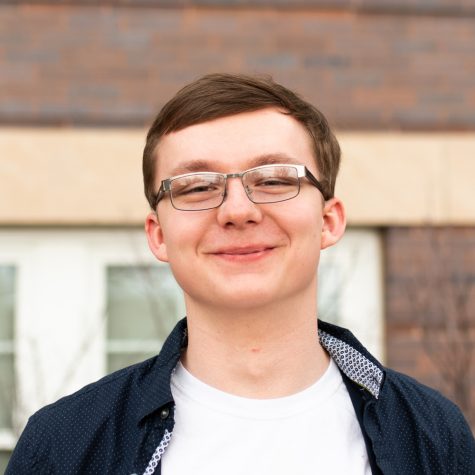 Sean Dunn, News Editor
Sean Dunn is from Coleridge, NE and graduated from Hartington Newcastle High School in 2015. Sean is a senior and is majoring in English Writing and minoring...