Professor Spotlight: Dr. Jason Karsky
Karsky highly regarded in the Criminal Justice Department
Hang on for a minute...we're trying to find some more stories you might like.
Do you ever wonder what working at one place for almost 20 years looks like? Well look no further. Dr. Jason Karsky is a prime example of a professor who has been teaching and molding minds of young adults for 20 years. Karsky is a professor and chair of the department of criminal justice.
Criminal Justice was Karsky's calling after he took an introductory course for it as a freshman in college. At the time he was majoring in business.
"The university I was enrolled at didn't have a criminal justice program, so I transferred to a university that did," Karsky said. "Criminal justice, to me, is fascinating."
He said that everyday he gets to go to class and prepare young adults for a field of work that is necessary for the well-being, safety, and security of the country.
"Criminal justice careers, while criticized frequently make up some of the most honorable professions out there," Karsky said. "I love being a part of education future leaders."
While Karsky was working in the field and completing his master's degree in criminal justice, he said that he started to think about teaching at the college level. He said that when he was working on his doctorate, he focused on research rather than teaching.
"I was asked if I wanted to teach an intro class," Karsky said. "I agreed and then found out the class was at 7 a.m. It turns out, I loved every minute of it and the rest is history."
He said that he stresses the applicability of the material he teaches to real world situations they will encounter in their future careers. He continuously tells his students about alums that embraced the place before them.
"My hope is that students realize that the criminal justice program at WSC has a long and proud tradition," Karsky said. "And that they are a pivotal part of that future."
He enjoys the ethics discussions he has with graduating seniors in the senior seminar class. He said that being honest and ethical are paramount in the criminal justice profession.
"We spend a lot of time on the Nebraska case involving crime scene investigator David Kofoed, and the planting of evidence in a murder case," Karsky said. "Although that case has left a black eye on CSI in Nebraska, I use it as a teaching tool about honesty and ethics in the profession."
With teaching comes moments that leave an entertaining story to tell future classes. For Karsky, this story is about a student that decided to vape in his classroom.
"Before vaping was as popular as it is now, I had a student who decided to vape in the back row of my juvenile delinquency class," Karsky said. "At the time I was clueless to the whole vaping scene, and still am. So I'm teaching and all of the sudden this big cloud, of what looked like smoke, rises from the back of the classroom. I thought the guy was one fire."
He said he then saw the device in the students hand, it had a little orange light. He said it was like he was an air traffic controller on a runway.
"Once I figured out what was going on, I admonished him for such poor judgment," Karsky said. "That very student matured significantly in the years that followed, and is now a police officer."
Of course, like every professor or staff member on campus, he is a human. Let's get to know him on a little higher level than a professor.
Karksy said that he has many hobbies.
"What most people probably don't know is that I'm a bit of a gearhead in my spare time," Karsky said. "Around five years ago, I rescued an old mangled Jeep CJ7 from the Wayne tornado, and have been refurbishing it ever since."
He said he would rather be welding the "ol' '77" than pondering the meaning of life.
"Plus it's cheaper than a therapist," Karsky said. "I kind of consider this a hobby – I dabble in politics."
He said that he has been re-elected for his second term as a member of the Wayne City Council.
"There is so much more to city government than I ever expected," Karsky said. "I love to serve my community and advocate for current and future generations."
He also watches T.V. like us mere mortals. In fact, he said his favorite show to watch is The Office.
"Some might be surprised by this, as I'm always asked if I watch CSI or Law and Order," Karsky said. "I don't watch any of those."
He said that when he talks about assault, murder, and mayhem all day he does not want to go home at night and watch more of it.
"That's why I like The Office so much," Karsky said. "It is light hearted and pokes fun at everyday life. If you visit Connell Hall, you will see Dwight Schrute has an office across from mine. OK, not really, but I put his name on a storage room across the hall."
Well, it's time to visit Dwight in his office, and have a nice and humorous conversation with Karsky. There will be no disappointment.

About the Writer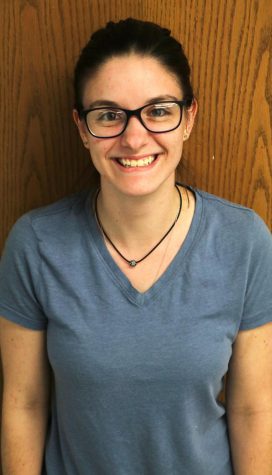 Kadra Sommersted-Simmons, Auxiliary editor
Kadra Sommersted-Simmons is from a small town called Emmet in Nebraska, but thinks it's easier for her to just say she is from O'Neill because people know...