Sullivan breaks school record for heptathlon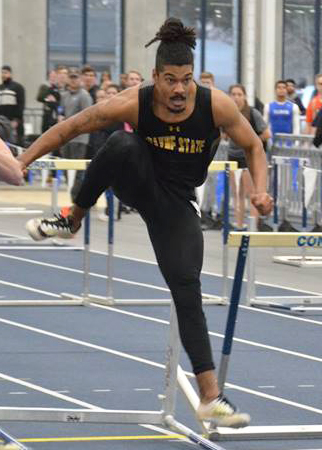 WSC track and field athlete, Robert Sullivan broke a school record and placed first in the heptathlon two weeks ago. Sullivan received recognition by the league office in Burnsville, Minnesota for his performance in Mankato, Minnesota.
Sullivan transferred from The University of Nebraska Lincoln back in 2015 and knew that he wanted to come to Wayne State to compete and be successful in the heptathlon event. 
"Braxton Adams and Derek Lahm played a huge role in the decision making process of trying to decide where to come and compete," Sullivan said.
When Sullivan first got to Wayne State, he started learning the ropes and other useful techniques from teammate, Travis Kamm. Sullivan knew he would help sharpen his events and maybe break a couple records down the road.
Sullivan appreciates all of his teammates and coaches for all the hard work they put into practice and meets. The effort put in by his teammates and coaches has been a huge influence in making him a better athlete and leader.
His coaches have noticed the growth he has shown since he joined the team back in 2015. From transferring in from Lincoln to now breaking records and looking to break more. 
He believes that once the whole team starts to click together they will be hard to beat once WSC gets to the end of the year and every single meet counts.
"I'd say the hepathalon will be the next record setting event, it's a point based system, so I look forward to building off of it from Mankato," Sullivan said.
A graduate from Omaha Burke, Sullivan competed in the high jump and placed 6th with a jump of 6'2 as a senior. The week before the NSAA Class A State Championship, Robert set a personal record with a jump of 6'6 at A-2 Districts.
Sullivan's record breaking high jump was marked at 6'9 3/4, also breaking his own record at 6'8 ¾. With that jump he also had a NCAA provisional qualifying mark, which is tied for 12th in NCAA Division II.
Wayne State track and field's next meet is in Brookings, South Dakota on February 15, competing in the South Dakota State Tune-Up invite.