In the movies: Gone Girl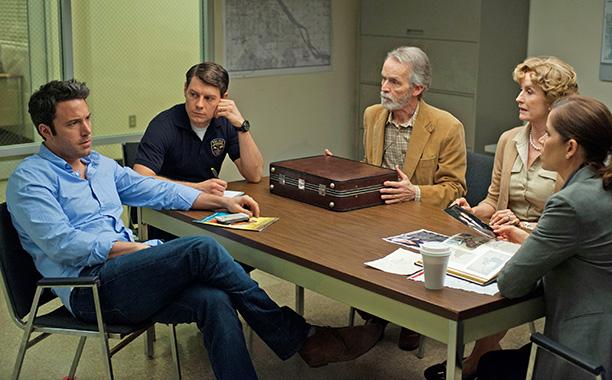 Sarah Lentz, Staff Writer
October 29, 2014
There's something just a little hinky about the opening monologue of "Gone Girl."
Ben Affleck's character, Nick Dunne, is talking about his wife Amy and on the surface, what he says is sweet. Bubbling just underneath is something menacing, but you can't quite put your finger on it.
That pretty much sums up the feeling "Gone Girl" leaves the audience.
Directed by David Fincher ("Fight Club," "The Social Network") and based on the best-selling book of the same name by Gillian Flynn, the film is a wild, unsettling ride.
"Gone Girl" tells the story of the not-so-happy Dunne family. Nick and his wife Amy (played by Rosamund Pike) are Missouri transplants by way of New York City.
The couple went from dream jobs in the empire state, to having to move to the Midwest to take care of Nick's dying mother.
While the transition was an easy one for Nick, Amy, a trust-funded native New Yorker hated Missouri and began to resent her husband for uprooting their lives.
One day, Nick came home to find his front door wide open, wife missing and blood splattered in the kitchen. A police investigation begins and Nick is instantly the prime suspect, at least in the ever-present public eye.
As the investigation goes deeper and deeper, Nick becomes more and more convinced that his wife is both still alive and most likely under less duress than he is.
All he has to do is find her.
"Gone Girl" is a strange viewing experience. Early on, you realize almost every character is holding back their true nature. Because of this, it's hard to connect with the people you should care about until about halfway through the two-hour plus film.
Once true colors get revealed, however, you can't help but get completely sucked in to the strange but powerful performances from Affleck and Pike.
Playing the privileged and often unlikeable Amy, Pike outshines everyone else in the cast. She bounces between being charming, spiteful and just generally bonkers with ease. Her performance is so nuanced and brilliant that you can't look away whenever she's on screen, even when you want to.
Carrie Coon, who plays Nick's twin sister, was a great surprise.
While the dialogue is sharp and the story is intriguing, "Gone Girl" definitely benefited from Coon's performance as the witty and sardonic Margo Dunne. Without the levity she provides, the movie would be far darker than it is.
"Gone Girl" is a rich who-dunnit (and who-dunnit to who) that is wonderfully creepy. It's often cringe-inducing and hard to watch, but the enthralling story and perfectly casted ensemble makes it hard not to.
It's not a movie for the faint of heart, but if you can hold on until the end, it's worth the ride and the unsettling feeling after it's over.