Freshman breaks 15-year-old pole vault record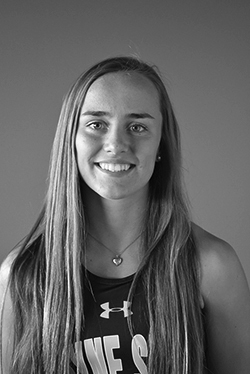 Two weeks ago Wayne State Track and Field had an athlete break a record that hasn't been broken in 15 years. Mikayla Marvin changed that when she set a new record in pole vault for Wayne State at 10' 8 ¾".
Ever since Marvin was a little kid, she always knew that pole vaulting could be her best field event in track.
"I first thought pole vault was going to be my best field event when my dad, brother, and my sister started doing it and I was watching at a very young age," Marvin said.
Marvin began pole vaulting as a child and has worked on refining her skills ever since, leading her to where she is at today.
"My coach gave me the same reason everytime and that was I was too short for another event," Marvin said.
When Marvin first visited, she went straight to the record book to see what the record for pole vault was, and she knew that whatever it was, that it was going to be her goal to beat it by the end of her college career. She broke that just five meets into her college career.
She pays her respect to her teammates and her coaches for pushing her and helping her improve everyday in practice and at meets.
"Coach Kamm and the other pole vaulters have helped me so much improve my vault skills and I could have not have done it without them," Marvin said.
Don't think that just because the record is broken that Marvin is going to stop pursuing more records.
"That's the good thing about pole vaulting, your goal continues to get higher so you always have something to shoot for," Marvin said.
She officially kicked off her pole vaulting career in the sixth grade.
"I have been in the pole atmosphere since I could walk," Marvin said.
Marvin has envisioned herself being coached by Coach Brink and being able to break the record here. To do it so early in her college career was also special.
"The moment I broke my PR my junior year at districts I knew I had a chance, but I knew I would be vaulting in college when I saw Coach Brink," Marvin said.
This isn't the first time Marvin has been competing at a very high level, as she placed at the Nebraska Class B State Track Meet with a vault of 11' 5" and notched a third place finish.
Her coach knew it was just a matter of time before she finally broke the record for pole vault.
"She is adjusting to a new coach (assistant coach Travis Kamm), which sometimes takes a little time to make the transition as well," Marlon Brink said.
Her coach notices that she is getting comfortable on the runway, as there were times where she would push off the hardest at the end of her steps and still get good height. They can tell she has been pushing hard all the way down the runway and bursting off when she finally sticks the last foot in the ground and the pole into the ground.
Even this past weekend she was able to tie her school record in Mankato, Minnesota with a score of 3.27 meters, 10' 8 ¾". Coaches want her to keep working hard and improving so they can score important points for the team in the NSIC Championships.
"We are very excited to see just how high Mikayla can go, I think she is technically very good vaulter, and a very good competitor," Brink said.