Sophomore Brittany Bongartz stepping up for Wildcats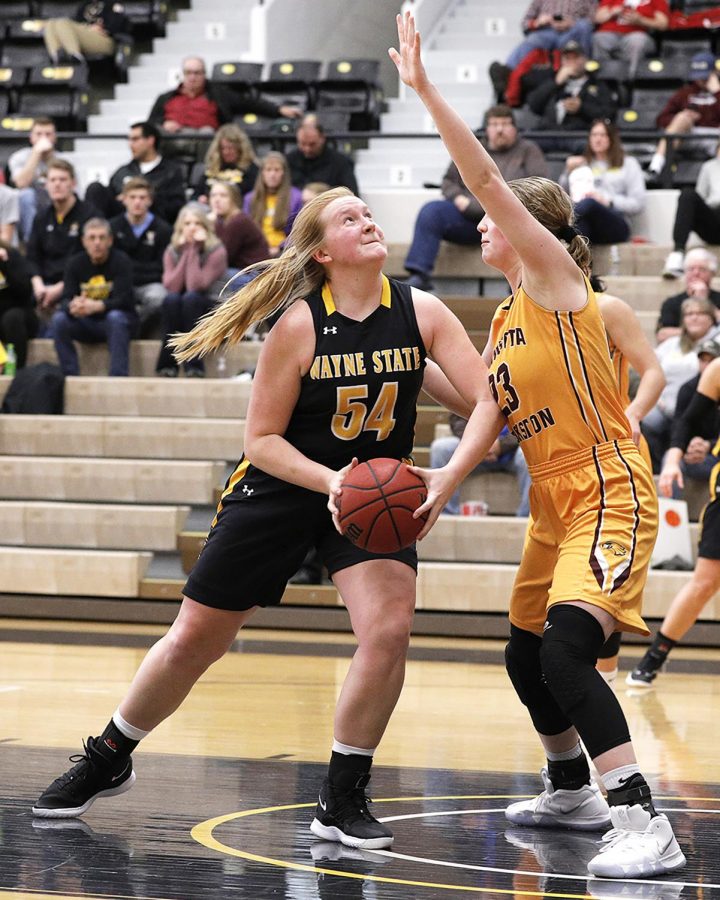 Evelyn Knox, Reporter
January 23, 2019
Wayne State's own, Brittany Bongartz is stepping into a new role for the 2018-2019 Women's Basketball season. The 6'0 Center sophomore from Ramsey, Minnesota is helping lead the Wildcats into another successful weekend alongside first year head coach Brent Pollari.
The Wildcat Women just came off of a 1-1 conference away weekend, with an overall record of 12-6 and NSIC record of 7-5 moving them into the 3rd ranked spot in the South Division.
"I am really excited about this year with our new head coach [Brent Pollari], coaching staff and new team," Bongartz said. "The new coaching staff has been really good and beneficial for our team as a whole and we have had a lot of success and have won some big games so far this year."
As a freshman, Bongartz backed up previous alumni stand-out Wayne State basketball player, Paige Ballinger, who is currently the all-time Wayne State blocked shot leader with 213 over her career. In her freshman season, Bongartz appeared in all 32 games averaging 12.3 minutes a game, 6.5 points per game, while also contributing 3.1 rebounds per game.
"I learned so much from Paige my freshman year, she was a great leader for our team and an amazing player to backup." Bongartz said. "It has been new and somewhat challenging at times with new responsibility stepping up this year but I have really enjoyed it."
This year, with head coach, Brent Pollari, the Wildcats are learning new systems and different styles of play, despite having a rocky start to the season due to shortages of numbers from injuries.
So far this season, Bongartz has started 13 games for the Wildcats at Center and is second on the team for scoring with 12.2 points per contest. Bongartz has tied her season-high in scoring three times on the year with 15 points. Bongartz has also had two double-doubles on the year against Augustana and Southwest Minnesota State. Bongartz additionally leads the team with blocked-shots per game with 1.5 while averaging 5.8 rebounds per game so far on the season.
"We have been playing well. We got off to a rough start with some injuries but have bounced back and are playing very well lately," Bongartz said. "I am really looking forward to the rest of the season and for us to continue to develop and grow overall as a team and program."
Away from athletics, Bongartz is majoring in Computer Information Systems, with hopes of working for a big company with lots of traveling.
"I'd like to be able to travel around the world someday, working for a global company that has business everywhere that helps loads of people," Bongartz said.
Bongartz, alongside the rest of the 'Cats will be back in action this weekend in Rice Auditorium hosting conference opponents Minnesota State Mankato and Concordia-St. Paul.