Wildcat women win ninth National Championship
Hang on for a minute...we're trying to find some more stories you might like.
Wayne State College Women's Rugby team won their ninth national championship in the National Small College Rugby Organization tournament, finishing off an undefeated season.
The team traveled to Atlanta, Georgia to compete in the Final Four. In the semifinal game, WSC defeated Morehead 55-5, advancing them to the championship game against Catholic University of America. The Wildcats ran up the scoreboard and walked away with a final score of 68-10.
Head Coach Darrin Barner attributes much of the team's success to defensive strategy and team unity.
"Wayne is known as one of the best defensive teams in the nation," Barner said. "We do a great job on defense to cause turnovers and have a short field to work with on offense. WSC is also known around the nation as one of the most systematic, structured and rhythm based offensives."
Barner was grateful for the strong leadership brought to the team by the upperclassmen and especially the captains.
"Leadership comes from the captains," Barner said. "They believe in me and in our team system, and I certainly believe in them leading the team. They did everything I could ever ask of them, and they are champions on and off the field."
While the team is young, with only one senior, the focus the entire season was towards this goal and the hard work and the professionalism with which they carried themselves shows to have paid off.
"I was pretty nervous with such a young squad, but the concentration of game film and total focus by the team in the locker room 20 minutes before kick-off was really something special," Barner said. "The focus of the team before we took the field was something that made me smile. They were all there to fight for each other to the very end."
Both captains were proud to help the women on their team grow into the best rugby players they could be individually, and as a national championship winning team.
"It's been amazing to watch each girl grow as a player and person over the season," Back Captain Brook Hoesing said. "We get such a diverse group of women it amazes me each time how we can come together as one loving family. I think a lot of girls who started the season being timid ended up as some of our most aggressive players, and that is due mostly to the older girls stepping up and leading by example as well as vocally."
WSC Rugby has been known to be made up mostly of women that had never played rugby in the past, and while the tides are changing and recruits are being brought into the team, newbies are still a major part of the team.
"I think as we progressed through the season," Scrum Captain Anna Fleecs said. "We saw girls embrace their roles on the team. Whether that means being a scorer one game and leading in assists the next, each member stepped up. Regardless of previous rugby knowledge girls were ready to learn and push themselves and that's what made us into the team that we are."
After such a strong team ended a second undefeated season in a row, Barner could only say how proud he was of his girls.

About the Writer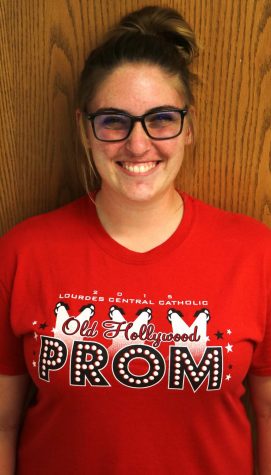 Julia Baxter, Photo Editor
Julia Baxter is from Plattsmouth, NE and graduated from Lourdes Central Catholic High School in 2016. She is currently a junior at WSC. She participates...