From Mac Miller to Pinegrove, 2018 brought high-quality music
Dunn ranks her top 10 songs of the year, you will thank us later, philistines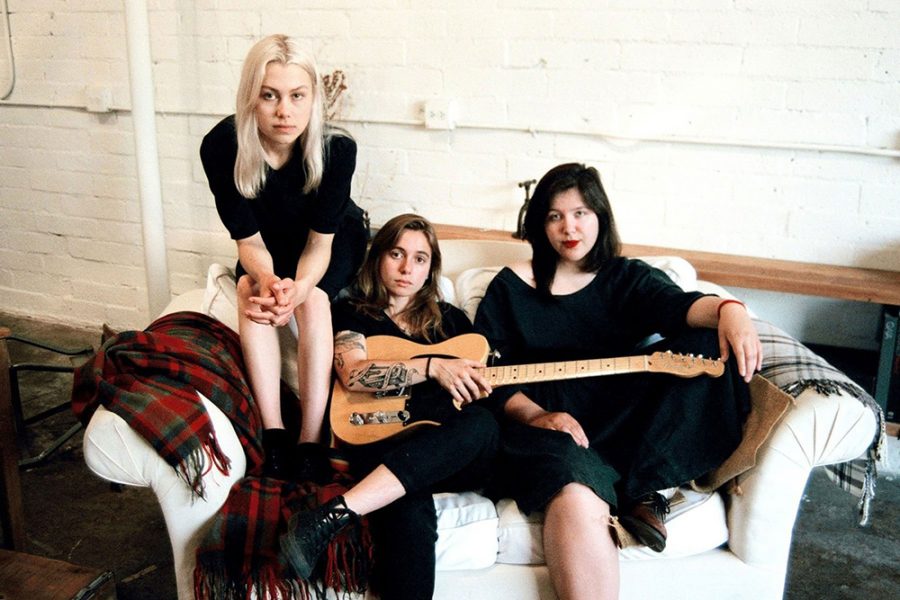 Libby Dunn, Arts & Entertainment Editor
January 9, 2019
Simply put: 2018 was a good year for music. Picking 10 songs out of a plethora of high quality records was not a simple feat for an overthinker like myself. I had a list of 45 great songs which, after much contemplation, I condensed to a list of 22. Though the top ten I chose to write snippets on were my personal favorites of 2018, the 12 honorable mention songs I listed at the bottom are of equal importance to me. These artists put a lot of work into making high-quality music—and though some of the songs I listed may not reside in everyone's genre pool—I encourage you to give them a listen.
10) Such A Simple Thing- Ray LaMontagne
I don't consider myself too much of a love song kind of girl, but this song made me miss the memories made at my wedding I have yet to have. . . if that makes any sense at all. Combining a simple acoustic guitar sound and LaMontagne's raw yet gentle voice, "Such A Simple Thing" provides a feel-good vibe that would make anyone want to fall in love.
9) You Worry Me- Nathaniel Rateliff & The Night Sweats
I became deeply interested in the complexity of Nathaniel Rateliff & The Night Sweats upon discovering their new album Tearing At The Seams on Spotify last March. Something about the soulful sound of Rateliff's voice, combined with musical contribution from all eight members of The Night Sweats, created a unique sound. Though the entire record was wonderful, the piano riff starting out "You Worry Me" intrigued me and led to my ultimate obsession with the song.
8) Northern Lights- Death Cab for Cutie
I truly can't decide if the reason I liked "Northern Lights" so much was because of the greatness of the song itself or if it was because Lauren Mayberry, lead vocalist of Chvrches, was featured in it. Either way, "Northern Lights," one of the 10 songs on Death Cab for Cutie's latest record Thank You For Today, was wonderful. Though this was their first record without former band member Chris Walla, the traditional Death Cab sound was left intact in almost all of the songs. I enjoyed listening to these traditional songs on the record, but I think my obsession with "Northern Lights" had a lot to do with its non-traditionally intriguing sound.
7) Your Dog- Soccer Mommy
Through the mere genius that is her second released record, Clean, Sophie Allison (who uses the stage name Soccer Mommy) makes it clear that her rise to fame is at its mere beginning. Allison gives the bad b*tch vibe within the first 30 seconds of "Your Dog" with her first line of the song being "I don't wanna be your f*cking dog." Through "Your Dog," Allison reflects on mistreatment and neglect that too many women can relate to on the basis of past relationships. Allison made it clear that she is done being treated like a dog and I think this song did a superb job of inspiring others to do the same.
6) Sinking Ship- Wild Child
I have liked Wild Child for quite some time now, so I was very confident that their record Expectations would be one worth listening to. Though the entire record is wonderful, I particularly enjoyed "Sinking Ship." An acoustic driven song, "Sinking Ship" reminded me that it's okay to take risks—even if it's "cold in the water" and my "sinking ship goes down" at least I took the chance.
5) 2009- Mac Miller
I have to admit that my taste for Mac Miller solely comes from my older brother's love for him. This being said, I truly enjoyed his fifth album, Swimming, which was released a month prior to his death. An already reminiscent recap of his time spent in the music industry, Millers' "2009" became even more important to fans after his passing. Throughout "2009," Miller talks about heartbreak and depression, though, he ended the song on a high note talking about how he'd "rather have peace of mind than war." The song—streamed more than 28,000,000 times on Spotify—will continue to serve as a reminder about the importance of mental health to his fans.
4) Lemon Glow- Beach House
I've been a big fan of Beach House for a few years now; something about the otherworldly sound of their music always leads me wanting more. I highly anticipated the release of their 7th album, Lemon Glow, and wasn't surprised when the debut title track "Lemon Glow" withstood as my favorite song on the record. Though "Lemon Glow" is calming at points, I can also understand why my mom called it "satanic" music when she heard me listening to it. I guess you just have to have a certain taste for the eerie and mysterious vibe that Beach House gives—good thing I do.
3) Rings- Pinegrove
Only being familiar with a few Pinegrove songs prior to their new album Skylight, I wasn't too sure what to expect. This being said though, I really enjoyed Skylight, and I particularly fancied the song "Rings." Talking about new beginnings, they sing, "I draw a line in my life, singing 'This is the new way I behave now' and actually live by the shape of that sound." Having recently dealt with problems of their own as a band, I think the idea of new beginnings is not only good for them, but also a good message for their audience.
2) Bambi- Hippo Campus
Though Hippo Campus' album Bambi was my favorite record of 2018, their title track "Bambi" came in a close second for the title of my top song of 2018. Giving a certain sense of reassurance, "Bambi" talks about both "wanting to run from everything" and waiting for the chance to make your own way. Unlike how they worked together in their past records, Hippo Campus announced via Twitter that they would be making the record as "four individuals under the name Hippo Campus," rather than a "Hippo Campus record." I think each and every song on Bambi makes it clear that their sound has significantly matured.
1) Me & My Dog- Julien Baker, Phoebe Bridgers, & Lucy Dacus
I have been obsessed with the utter talent of singer/songwriters Julien Baker, Phoebe Bridgers, and Lucy Dacus for a while now, so you can imagine my excitement when I heard the rumor that they would be recording music together. When the rumor became a reality, I felt my expectations of the trio may have been too high—but I was wrong—the record, Boygenius, truly exceeded my expectations. I found my favorite song from the record, "Me & My Dog," to be a true masterpiece. The song opened with Bridgers singing about her lover in a voice so soft it could put you to sleep if you were stupid enough to let it. Her solo continues until about 1:30 where she is accompanied by the high voice of Baker and low voice of Dacus, who come together for the verse, "I never said I'd be alright, just thought I could hold myself together." From this point on, the trio sang in such a powerful way that I found myself longing to be "on a spaceship, just me and my dog," though I had never longed for such a thing before.
Honorable Mention:
"Rose Petals" — S. Carey
"Saltwater" — Geowulf
"I Won't run from it" — Big Red Machine
"Bad Things To Such Good People" — Manchester Orchestra & Julien Baker
"Lavender Burning" — Half Waif
"1950" — King Princess
"Venice B*tch" — Lana Del Rey
"Rose Of Sharon" — Mumford & Sons
"Emerald Star" — Lord Huron
"How to Socialise & Make Friends" — Camp Cope
"Bad Bad News" — Leon Bridgers
"Oom Sha La La" — Haley Heynderickx