Senior art exhibit "Perceive and Preserve" opens
Wayne State College is hosting a senior art exhibit celebrating nature with artwork entitled "Perceive and Preserve." The exhibit opened on Nov. 15 and will run until Jan. 10. It is located in the Nordstrand Visual Art Gallery in Conn Library.
Two fifth year senior art students at WSC, Ethan Wick and Lily Roberts, present a variety of media representing their versatility as artists.
"It is a collaboration of both of our works over the last couple of years, and a summary of all of our art," Roberts said
With environmental concern becoming a more prevalent issue in society, "Perceive and Preserve" works to inspire others to make positive changes to help better the environment.
"A lot of our work is based off of conservation and the perception of what is important to the environment, and how we have grown as artists through our career here at Wayne State College," Roberts said.
Inspiration for their art was based off of things that interested them in their childhood like talking about their love for the environment, and looking for a positive change for it.
"It's kind of what we see as preservation, and our perception of the environment," Wick said.
Wick's work consists of natural landscapes and man-made things horribly affecting the natural environment. His work displayed different types of pollution, two different depictions of wildfires, deforestation and other hazards detrimental to the environment.
He said his pictures are mostly pixelated because the pixels are censoring the unwanted images of terrible acts that are happening to the environment, trying to ignore them rather than noticing them.
Roberts' work shows a strong interest in nature and wildlife because most of her projects are ceramic beetles.
She said the beetle can symbolize new beginnings, and can be well-grounded in a person's spirit and life. Roberts brings her work to life by using bright, vivid colors and larger-than life forms.
Additional information added by Libby Dunn.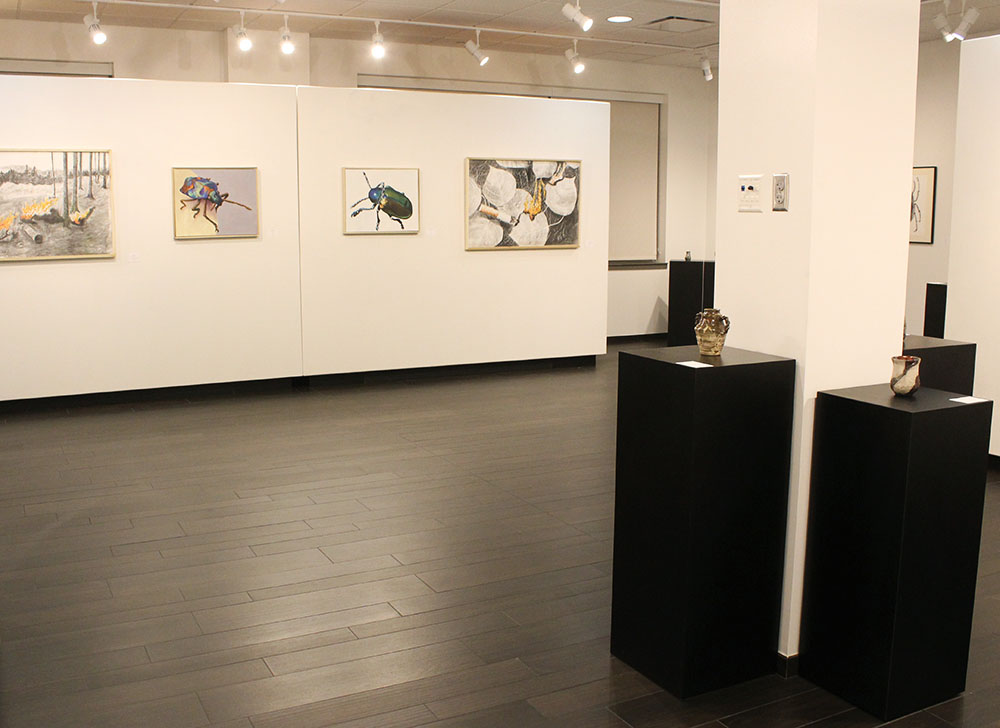 Julia Baxter