Only one thing on his mind
Hang on for a minute...we're trying to find some more stories you might like.
It seems President Donald Trump doesn't have the ability to think about anyone except himself. We knew this already, but Trump never fails to just prove us right at every corner.
Trump was in France with other world leaders to help remember and celebrate the 100 year anniversary since the end of World War I. While the other world leaders went to different locations across France to remember soldiers lost to their respective countries, Trump sat in his hotel room. Citing bad weather for the reason he would not be attending an event to honor American troops killed in France.
This could be a good excuse if every single other world leader wasn't out at their own events braving the weather for their own fallen.
For a man who claims to be a champion for our military and our veterans he has a weird way of showing it. The only reason he wanted a increase in the budget for the military was so he could pay private defense companies not give more to our troops and veterans.
Under the Trump administration the Department of Veterans Affairs has gone down hill. Veterans haven't received the Goverment Issued Bill benefits for months due to tech issues at the VA. The chairman of the House Committee on Veterans Affairs Rep. Phil Roe of Tenn. calls the handling of the VA a train wreck. Using the GI Bill benefits veterans receive help from the government to help pay their tuition and housing bills.
Some veterans like Shelley Roundtree may never see the money they were owed. Telling NBC news he is about to lose everything and become homeless because he wasn't given what he was promised and earned in his time the U.S. Army.
Many veterans, like Roundtree, are still waiting for the VA to catch up with a backlog created after Trump signed the Forever GI Bill in 2017.
The piece of legislation expanded benefits for veterans, but did not upgrade the VA's technical capabilities to account for the changes. It is the end of 2018 and still nothing has come from this administration on ways to help fix the VA. This just shows another example of the president talking a big game in interviews and rallies to stir his base, but does nothing to actually do or help what he says. As of Nov 8, more than 82,000 people were still waiting for housing payments from the VA. Hundreds of thousands are believed to have been affected one way or another by the VA.
I don't understand the people who blindly support Trump and only listen to what comes out of his mouths at rallies, but don't look up the facts behind what he says. Trump says he loves the military and has done more for them than any president in history.
This man can't even brave the rain to pay tribute to American Troops who gave their lives for this country, and those still currently serving. Trump has not visited one war zone so far during his presidency. Trump doesn't care about veterans, he only cares about one person and that is himself.

About the Writer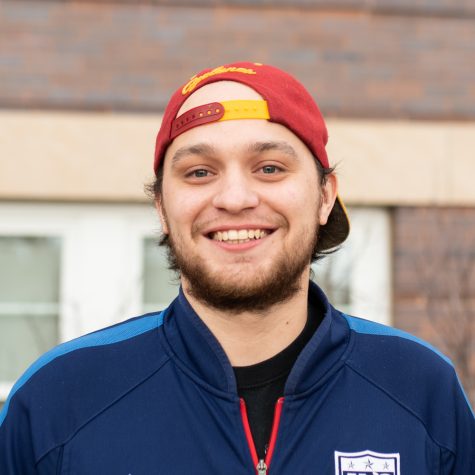 Justin Yost, Opinion Editor
Justin Yost is from Logan, IA and graduated from Logan-Magnolia High School in 2013. Justin is a senior and is majoring in Journalism. Aside from writing...