WSC's broadcast engineer dedicates 24 years to WSC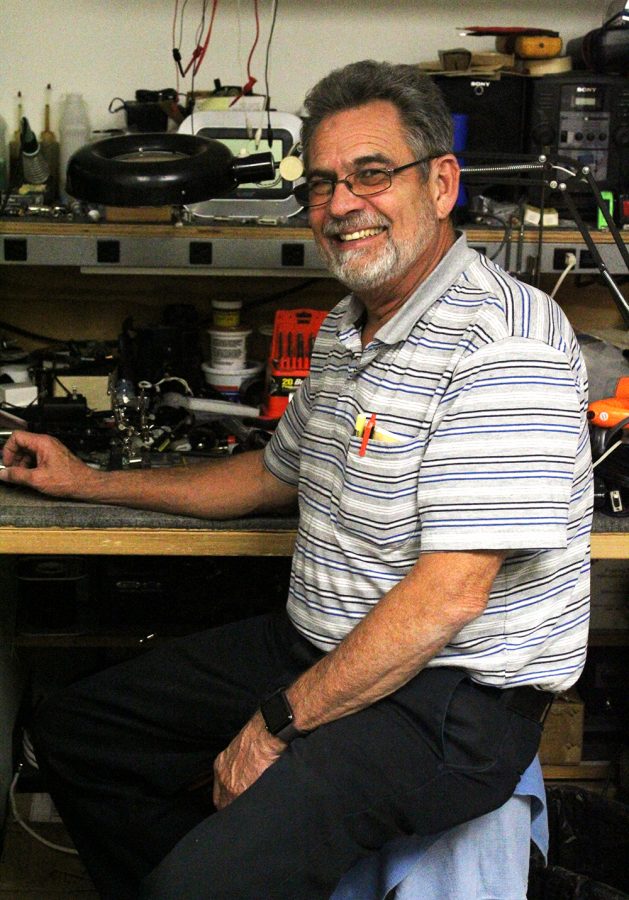 Alexander Retzlaff,, Staff Writer
November 7, 2018
Thomas Schmitz enjoys working with his hands and repairing things. As the broadcast engineer at Wayne State College's official radio station, 91.9 "The Cat," Schmitz has found a way to work diligently doing what he loves.
He helps out the crew of 91.9 "The Cat" by setting up equipment and helping coordinate broadcasting of events. Schmitz's passion as a broadcasting engineer began during his childhood in O'Neill, where he found enjoyment in 'taking his folks' radios apart.
"At one of the businesses in O'Neill, I worked on TV's and I watched [my boss] all the time," Schmitz said. "I suppose that's what got me thinking about it, and I stayed with electronics ever since."
After graduating from O'Neill St. Mary's High in 1974, Schmitz began to sharpen his skills at Northeast Community College. Schmitz began to put his repair skills to use after graduating from Northeast in 1975.
"I left Norfolk in '78, and went out to Holdrege for a bit," Schmitz said. "The [television] company went out of business, so we came to Wayne back in December of '78."
While in Wayne, Schmitz and his wife Cindy, started up their own store – T and C Electronics. Schmitz applied his repairing skills to the electronics sold there. Schmitz closed down the store in 1995 after accepting a position at WSC. His job as broadcast engineer comes with challenges.
"All the new equipment keeps expanding and changing," Schmitz said. "It's tough sometimes to keep up with how fast things go."
Even with the challenges, though, Schmitz wouldn't trade the job for anything.
"The best part is working with all of the students up here," Schmitz said. "[I enjoy] seeing a lot of the imagination at work in their productions and videos."
In addition to his position at WSC, Schmitz has also dedicated his time to the community, assisting on the Wayne Volunteer Fire Department and Rescue Squad. Members of the Video and Audio Communications Department, such as Professor Michael Marek, also see Schmitz as an invaluable member of the team.
"Tom's position as broadcast engineer is a challenging one," Marek said. "That means he's often called on because there's a problem that needs to be tended to on short notice. One of the great things about Tom is that he makes himself always available.
The call might come in the evening, it might come in the middle of the night, or it might come first thing in the morning. Tom is great about responding to that need."
Schmitz has enjoyed working and contributing to WSC. His skills have kept him going for the past 24 years, and he is certain they will keep him going for many more.