A plot by a "mastermind"
Hang on for a minute...we're trying to find some more stories you might like.
The special council in the Russia election interference case, Robert Mueller asked the FBI to investigate a plot to undermine him and his investigation. Now this plot was done very poorly and can be a little confusing. Here is the backstory to what happened.
Several political reporters were contacted about doing a story over alleged sexual misconduct. Over the past couple of weeks multiple reporters were contacted by a woman claiming she had been offered money to say she had been harassed by Mueller.
While investigating the possibility of a hoax, a journalist for the Hill Reporter said he received threats, including a text message reading, "You're in over your head. Drop this," and included his and another editor's home addresses.
Shortly after, journalists started to investigate the allegations, Jack Burkman, a Republican lobbyist, lawyer and radio host, who is most known for promoting conspiracy theories like the deep state and the circumstances of Democratic National Committee staffer Seth Rich's death, stated via his Facebook that he was investigating the allegations against Mueller. Adding that they would have a press conference with the first of many women who have alleged the misconduct of Mueller last Thursday.
A private investigation company Surefire Intelligence, was hired by Burkman to investigate the allegations. When Burkman was asked about the company by journalists, he told them it was run by Jacob Wohl. If you are unfortunate enough to see President Donald Trump's tweets you may of heard of Wohl.
He is a 20 year-old disgraced hedge fund manager who pops up in the replies of every single Donald Trump tweet pledging his love for Trump. After becoming the youngest person ever to be banned for life from securities trading for fraud, Wohl has tried everything he can to become a far-right political commentator.
Reached by direct message on twitter, Wohl denied being associated with Surefire Intelligence or the plot to pay women to make false allegations against Mueller. Even though the plot had no traction and no credibility, far-right news sites took the story and ran with it. Gateway Pundit, where wall is employed as a writer, touted their exclusive documents about a very credible witness. Shortly after Wohl tweeted out many prominent DC insiders were telling him several women were ready to come forward.
Even though Wohl said he had nothing to do with Surefire Intelligence, his email is listed in the domain records for Surefire's website and a phone number on the site was registered in public records to belong to his mother. And the site was made only weeks ago.
Now this part is funny. Going to Surefire's LinkedIn page, the profiles of the people who work there are stolen edited photos of models and celebrities. Most notable one photo was of Israeli supermodel Bar Rafaeli. One of the profiles for a financial investigator in Zurich had a black and white image of actor Christoph Waltz, who played Dr. King Schultz in Django Unchained. This brilliant plan to take down a very powerful man, used a picture of a very famous actor to be one of the investigators…..I don't even know what to say. A toddler would tell you this is a bad idea, but yet this is what they went with.
Even after journalists did their jobs and found all of this, Burkman and Wohl blamed liberal operatives trying to smear them and decided to go ahead with their press conference last week.
Burkman advertised for days leading up to the press conference that one victim would be at the presser to recount her allegations. Once it started she was nowhere to be found.
This plot was over before it began in large part because of who was behind it.

About the Writer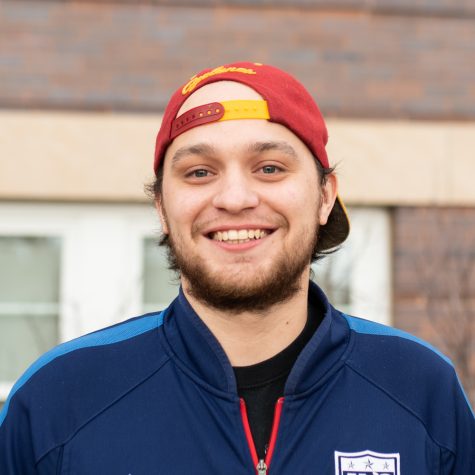 Justin Yost, Opinion Editor
Justin Yost is from Logan, IA and graduated from Logan-Magnolia High School in 2013. Justin is a senior and is majoring in Journalism. Aside from writing...