Five years later: The Wayne tornado
Hang on for a minute...we're trying to find some more stories you might like.
Oct. 4, 2013, was a day that dramatically changed people's lives in Wayne. An EF-4 tornado roared through the business park destroying many businesses and some homes.
Thankfully, with the help of the community, rescue personnel, volunteers, and many other leaders, Wayne has recovered and rebuilt. The mayor at the time, Ken Chamberlain, had a great impact on the recovery.
"The tornado was Friday evening and it just went on and on, just one thing after another trying to get things done and get through the rescue part of it and get to the recovery part," Chamberlain said.
Chamberlain had to figure out how to deal with all of the sudden stress put on him, especially the first few weeks. He could not get back to his normal, everyday job until at least a month after the tornado happened.
"You know at the time, it's kind of my personality and how I am built, I just handle one thing at a time get that done and onto the next thing," Chamberlain said. "You don't think about how hard or difficult or I don't bring emotion or any of those things into it."
Chamberlain credits the hard-working people around him for the quick recovery from the twister. The community of Wayne was a great support system to all those affected by the natural disaster that occurred that Friday evening.
"I had really great people around me and really great people involved with it," Chamberlain said. "So it made my role a lot easier."
Two people that were among the most personally affected by the tornado were Jim and Sandy Hoffman. Their home was completely destroyed.
"We were home, we went to the basement," Jim Hoffman said. "We talked through the whole storm just like this, and Sandy goes to the windows in the house, and I said, 'oh we just lost a house' because there was sky above us immediately."
Neither Jim nor Sandy were hurt severely, but Jim had to receive twelve stitches on his head. According to Jim, people could not find him until about an hour after the destruction because he was already driven to the hospital to address the cut on his head. He was not able to drive himself because their vehicle was also destroyed.
"There were three rows of concrete blocks which was part of the foundation and those blew away," Sandy Hoffman said. "That's what hit him in the head."
Black Hills Energy was among the many businesses that had property destroyed. The company had to rent and share a temporary office until their new building was built.
"Something good always comes out of something bad," said Mike Vovos, lead service tech for Black Hills Energy. "At the time, we were sharing a building with AgVenture and renting our space and we were outgrowing it which allowed us to build a brand-new building."
Because of both the tremendous damage and also the community effort to rebuild, Oct. 4, 2013, is a day that remains instilled in the minds of the citizens of Wayne.

About the Writer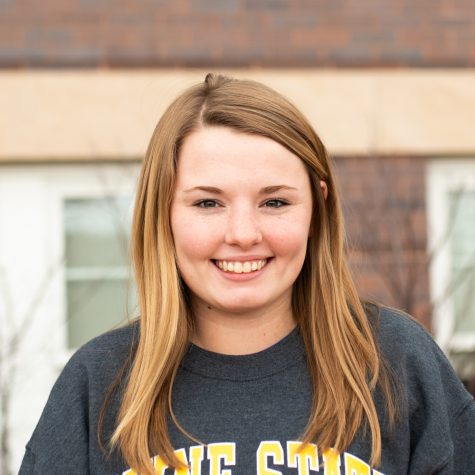 Brenna Vovos, Ad Manager
Brenna Vovos is from Wayne, Nebraska and graduated from Wayne High School in 2017. She is currently a sophomore and is majoring in Agricultural Communication...