Movies for the season of the spooky
Hang on for a minute...we're trying to find some more stories you might like.
I know I'm in the minority here, but I don't personally start celebrating Halloween the first day of October like everyone else around here seems to do. Don't get me wrong I love Halloween it is one of my favorite holidays of the year, but I'm just not one of those people who freak out when the month of the holiday begins.
I guess I can understand Halloween more than the rest because October is usually the start of fall. We finally get away from the heat of summer and into the cool nights of fall. That hasn't been truer than this year.
It seemed like during late September, summer tried to make one final stand and give us some of the hottest days of the year. October has brought us those cool nights we can sit outside around a camp fire.
Ah hell I talked myself into it, I'm ready to get in a spooky mood, and get ready for Halloween.
There isn't a better way to get ready for Halloween then watching traditional Halloween and scary movies.
Here is a list of movies to get us all in the Halloween mood:
"Hocus Pocus" is the perfect movie to begin our list with. Now I'm old, and this movie is before my time, but I hope it's a movie we have all seen. It is the perfect movie for children and adults. As a young kid this movie both made me laugh and scared me to death. It has everything witches broomsticks, and blackcats. The comedy has lived on from 1993 and is still funny today.
"The Nightmare Before Christmas" is another classic Halloween movie. Jack Skellington is bored of his town's namesake holiday of Halloween Town.
He finds himself in Christmas Town when he decides to take over the Holiday. This stop motion Christmas story by Tim Burton is also a fun Halloween tale.
Another great movie for Halloween time is "Beetlejuice." This movie is another over the top Tim Burton production, but it is the right amount of scary and funny to watch with your friends anytime.
"Ghostbusters" the new or old is great movies for Halloween. What could be better than going out and fighting Ghosts? You can't go wrong with either movie.
This year the movie franchise "Halloween" is making a comeback Michael Myers makes his comeback, while Jamie Lee Curtis' character Laurie tries to stop him once and for all.

About the Writer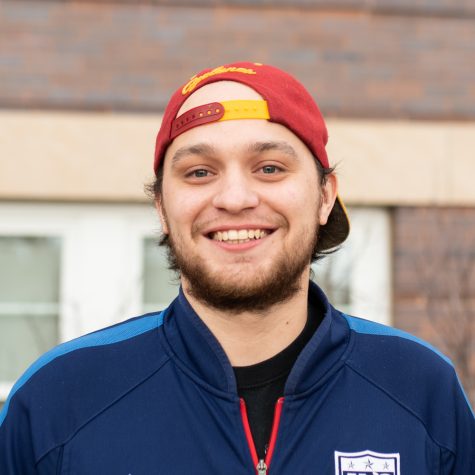 Justin Yost, Opinion Editor
Justin Yost is from Logan, IA and graduated from Logan-Magnolia High School in 2013. Justin is a senior and is majoring in Journalism. Aside from writing...