Club Spotlight: League of Legends club
"League of Legends" is a video game based on characters in an arena style match split in groups of five. The club currently has roughly 15 members and meetings are held in Gardner Hall.
They will participate in a tournament at WillyCon, which take place March 29 through 31 2019. The club has a "League of Legends" one-on-one tournament that anyone can join at any skill level.
An upcoming event is the "League of Legends" international tournament known as Worlds. The tournament picks the top teams from around the world in a round robin with an elimination
style tournament.
The goal of the club is to help other players, both new and old.
"When I first got into the club, I was absolutely terrible at the game," Representative Logan Raevis said. "After one year of being in the club, I saw myself dramatically improve from all the help and advice that all the players were giving me."
The club's objective is to sharpen everyone's skills and to make sure that new members get a good grasp of the game so they do not get intimidated. There are people in the club who are there to help and make the experience more fun.
"It's not about winning the match, it's about improving yourself and having fun."
Resident assistant Cody Craig is one of the clubs top performers. He maintains a high level of skill that not many other members possess.
"No one wants to go up against Cody, and everyone wants Cody to be on their team," Raevis said.
Not only is the "League of Legends" club an exciting experience, but they also capture a sense of community.
"If you join us, we will make sure you want to stay," Vice President Rush Boehm said.
As e-Sports continue to grow, video games like "League of Legends" will continue to grow in popularity, which will further benefit the club as more and more people are drawn to the game. "League of Legends" has a bright outlook this year.
About the Writer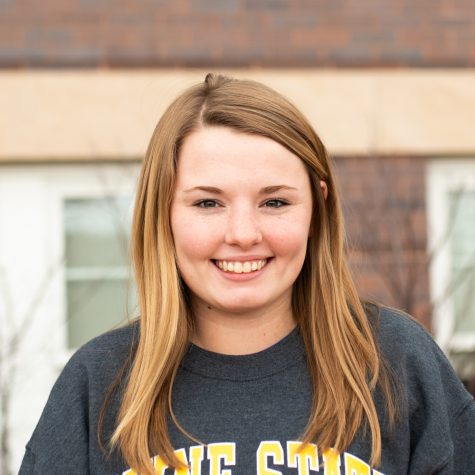 Brenna Vovos, Ad Manager
Brenna Vovos is from Wayne, Nebraska and graduated from Wayne High School in 2017. She is currently a sophomore and is majoring in Agricultural Communication...