Rare premiere of short film by Michael White
Professor Michael White's short film, "The Ghost in Her," will premiere at the Majestic Theatre on September 19 at 7 p.m.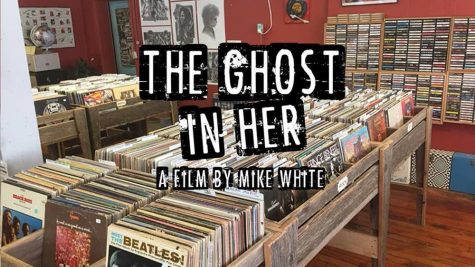 White has helped students with short films in the past, but this is his first short film that he's written, directed and produced himself in 20 years. The film is a creative project and will help to assist his classes.
"I've been so busy helping students make their own films, that I haven't done it," White said. "But I've been here for a while, and one of the things for professors is they want us to go ahead and be working on our own things."
"For other professors, it's probably more writing papers and doing research," White said. "But in my case, because I teach video and film, making a film is one of the best things to do. From that standpoint, the making of the film helps me be a better teacher because I have to address modern production problems and all these other things that my students have to face."
White thought of the idea for the movie when he was in a record shop.
"I was in a record store and I was hearing an employee talking to another employee about an old girlfriend who had come into the store," White said. "And about how she was so different, and how she had married a wealthy guy and that she had kind of sold out. And I thought about it and thought about it and later I had sat down to write, because I write recreationally, and I kind of created a story based on that. "Based on the girl he hadn't seen in 30 years coming into the record store and him having to come to grips with it."
The film was cast in Sioux City, Iowa and shot in Sioux Falls, South Dakota. "There was one store in Sioux Falls that I really loved called Cross Town Records," White said. "And I've only been in there for like 15 minutes, one time. And I called the owner and he was so awesome, he was like 'let's do it, let's shoot the film here."
The film was supposed to be shot in one 12-hour day but there was a technical difficulty with a field monitor. One of the camera sensors went out, so three hours of the footage came back bad.
"We had to decide, the choices were to either convert the film to black and white, or to reshoot," White said. "And everybody on the cast and crew felt so strongly about the story, and so strongly about making this film that they opted to reshoot. So, we took the entire cast and crew back to Sioux Falls and shot for an additional five hours. And we did that on the 19th, and now all the footage came back and I'm actually really happy about that."
Sophomore Shelby Hagerdon played Grace in the film. Hagerdon has starred in past WSC student films, including "Orientation" and "Kerfuffle."
"The other films I have acted in were done by students, so this piece felt more professional," Hagerdon said. "The filming was a great experience, especially because Dr. White had such a passion for it."