It's prom night in Wayne
College students are pretty young. From 18 to around 24, they have a lot of life ahead of them. But, one-fifth of a century is still plenty of time to create a generation of young adults with a collection of recognizable and time-defining music. These songs were definitely appreciated at the Student Activities Board endorsed Throwback Prom last Thursday.
Around 50 Wayne State College students got jiggy with it at the prom. Since it was a throwback event, the DJs played music from the early to later 2000s. Some of the classic hits that were played were "Allstar" by Smash Mouth, "1985" by Bowling for Soup, "Fergalicious" by Fergie, and many more. They also played the ever-popular "Don't Stop Believin" by Journey.
For some, the best part of the prom was the merriment with friends.
"It was definitely the people," freshman Michaela Timmerman said. "I have made so many friends here at Wayne State that I was comfortable with myself. I loved how everywhere I turned I knew somebody."
For others, it was just the chance to bring out that old suit or dress.
"For me, it was being able to dig out an expensive dress I only wore once and to get all dressed up and have fun with friends," senior Abigail Ramold said.
The prom not only featured music, but also snacks and drinks to keep the party going, along with a photo booth with fun props. They also gave away glass jars full of party favors: a flower lei, candy, and a bubble-liquid container and wand to go with it.
Marketing Director Emma Osnes played a big part in organizing the event.
"The whole concept for the theme came from the idea itself, wanting to do a 'throwback' prom," Said Osnes. "So we used the most cliché theme we could think of, actually inspired by Back to the Future, and played only throwback music."
The SAB hosts many events on campus, including comedians, movies and the spring fling.
"I've really enjoyed the comedians they've gotten in the past," said Ramold. "The movies they get for campus are really nice too."
Some students would like to see more dances in the future from the SAB.
"I would definitely like more dances," said Timmerman. "It doesn't have to be big and decorated like the prom was. But I love the idea of going down with a bunch of friends and dancing."
The SAB meets at 5:30 every Wednesday in the Elkhorn Room of the Kanter Student Center.
"The great thing about SAB is that it's run by students, for students," said Osnes. "So really anyone can come up with an event and propose it to the Executive Board members (who are also students) and it could be put into work."
About the Writer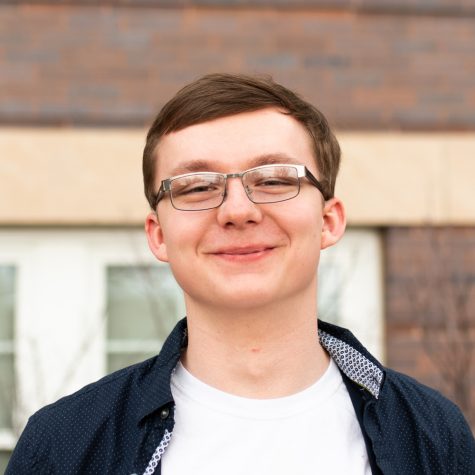 Sean Dunn, News Editor
Sean Dunn is from Coleridge, NE and graduated from Hartington Newcastle High School in 2015. Sean is a senior and is majoring in English Writing and minoring...