'Cats host Track and Field Classic
Hang on for a minute...we're trying to find some more stories you might like.
The Wayne State College men and women's track and field teams enjoyed a break in the dreary weather to compete in the Wildcat Outdoor Classic last Thursday where they ended up with a number of top five finishes.
The meet was originally scheduled to take place last Friday and Saturday but was moved up due to inclement weather.
"We saw the weather forecast and we decided to give our athletes the best chance to get good marks," said Track and Field Head Coach Marlon Brink. "Having the meet today made the most sense."
Brink said the 'Cats were excited to be back outside.
"Everybody is kind of excited and they've got a lot of energy to do some new events that they weren't able to do indoors, like the 400-meter hurdles, the hammer throw and the javelin throw," Brink said. "Overall, track is more of an outdoor sport than indoor, so I think everybody is excited to be outside again."
Along with WSC, the teams competing in the meet were Iowa Western Community College, Midland University, University of Jamestown, Briar Cliff University, University of Nebraska–Kearney, Dordt College and Dakota State University.
Throughout the day, WSC recorded a number of top five finishes.
For the men's field events, senior Brady Metz finished fourth in long jump with a distance of 6.81m, while senior Derek Lahm finished fourth in the javelin throw with a distance of 48.33m. Sophomore Dylan Kaup placed fourth in the hammer throw with a distance of 54.90m, hitting an NCAA provisional qualifying mark.
Junior Isaias Solorio placed fourth in the 10,000-meter run with a time of 35:24.84 to start off the running events for the men. In the 110-meter hurdles, sophomore Habib Jallow came in first with a time of 15.32s and freshman Preston Davis finished in third with a time of 16.04s.
Senior Clay Kramper came in first place in the 100-meter dash, finishing with a time of 10.96s, while senior Braxton Adams finished right behind him with a time of 11.05s. Kramper also placed first in the 200-meter dash with a time of 21.78s.
"The weather was, thankfully, pretty nice and it was a good first meet," Kramper said. "To get a win in the 100 and 200 makes me happy. I'm happy that I had my teammates with me in my heats; they were able to push me to good times."
In the men's 400-meter hurdles, Jallow came in second place, finishing at 55.14s, while Davis followed him with a time of 56.10s. Sophomore Jack Doughty came in second in the 5000-meter run, finishing with a time of 16:19.
To end the day for the WSC men, the "A" team, made up of Davis, Jallow, freshman Kyle Lowe and senior Brandon Marker came in first place in the 4×400 meter relay with a time of 3:32. The "B" team, made up of Nathan Pearson, Bryce Holcomb, Brock Hegarty and Nathan Hiemer, finished in fifth place with a time of 3:39.
In women's field events for the day, freshman Hanna Lazure placed fourth in high jump and finished with a height of 1.52m. In the long jump, junior Morgan Shearer placed first with a jump of 5.25m and freshman Sophie Noecker came in second with a distance of 5.06m.
For the discus throw, senior Michaela Dendinger finished in first with a throw of 49.25m. Freshman Kenzie Sullivan placed third with a throw of 43.40m and senior Kacie O'Connor followed her with a throw of 41.35m. The 'Cats took first, second and third place in the shot put with Dendinger in first with a 15.82m throw, sophomore Tia Jones in second with 13.74m and freshman Jadin Wagner with 13.64m. To end the field events, Dendinger placed second in the hammer throw with a distance of 61.25m.
To start off the women's running events, freshman Molly McCartney placed second in the 1500m run with a time of 5:17. Sophomore Kim Lowman finished in fourth with a time of 5:21.
"I feel like this meet was a good starting point to begin my outdoor season, and I feel like my time will be a starting point to move up from," McCartney said.
In the 100-meter hurdles, Noecker placed first, finishing at 16.69s, while Shearer came in fifth, finishing at 18.06s. Graduate student Mary Alderson finished first in the 400-meter dash with a time of 58.82s and junior Joan Jelimo came in third, finishing at 1:00.98.
Freshman Allysa Kimpson came in second in the 100-meter dash with a time of 12.97s, and freshman McKayla Hanson finished fourth with 13.85s. In the 200-meter dash, Alderson came in first with a time of 25.29s. Kimpson came in fourth place with 26.50s followed by Jelimo with 26.60s.
As the only team competing in the race, the WSC women's 4×400 relay team came out on top. The team, made up of Noecker, Shearer, Lowman and freshman Bri Crouch, finished with a time of 4.37.
"We didn't know that the other team had scratched until right before the race," Crouch said. "This was my first time running this race, and it felt weird racing without competition. I think we did very well for our first race together."
The Wildcats will compete again this Friday at the Southwest Minnesota Invite in Marshall, Minn.

About the Writer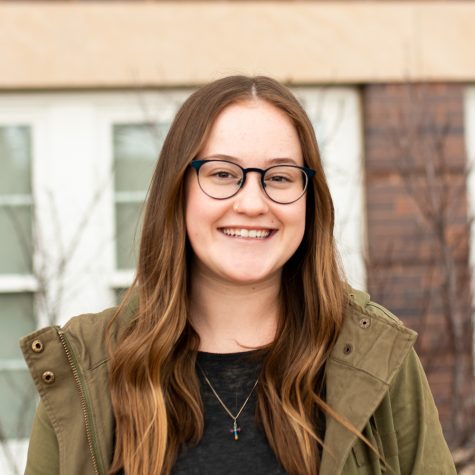 Libby Dunn, Arts & Entertainment and Online Editor
Libby Dunn is from Falls City, Nebraska and graduated from Falls City Sacred Heart High School in 2017. She is a sophomore and is pursuing a major in Journalism...