Myths and monsters
The medium of painting and visual art gives us windows into worlds both abstract and concrete, surreal and down to earth. For the rest of March and April. Wayne State College will be able to get a glimpse of a world beyond our own in the exhibit taking place at Blue Cat Gallery & Studio titled "Myths & Monsters."
"'Myths & Monsters' includes work created by members of the University of Nebraska-Omaha's Print and Book Arts Guild, or PBAG," said Art & Design assistant professor Carolyn Albracht. "They are a student-led organization that gathers to share their love of printmaking, book arts, and art in general."
The artists who will be showing their pieces are Charlotte Berryman, Rico Childs, Amanda DeFazio, Samantha Helms, Jose Hernandez, Alissa Rosentrater and Karmen Valadez.
"Any artist who is interested in exhibiting work at Blue Cat Gallery may email images of their work, an artist statement/biography, and a resume to our email," said Albracht. "They will receive a reply within one to two weeks with information regarding exhibiting information if their work is accepted for showing. Groups, such as PBAG, go through the same process, submitting several images of work by each artist and information about the organization or group."
The exhibit opened March 2 and will be available to the public until April 28. The focus matter of the exhibit is well-explained through the
exhibit statement: "Myths and monsters connect people in many different ways. Whether it be the small whispers of Bigfoot or the beliefs held by an entire culture, tales of myths and monsters span all over the world. These strange creatures and alluring stories can be interpreted in many different ways, and with this show, we did just that. Our artwork covers multiple genres from non-objective and abstract to in-your-face political statements. There is something for everyone to enjoy."
You can find the Blue Cat Gallery & Studio at 114 W. 3rd Street. It is open on Fridays and Saturdays from 10 a.m. to 4 p.m. If you would like to get in contact for an appointment, you can call, 402-454-5144 or email at [email protected]
About the Writer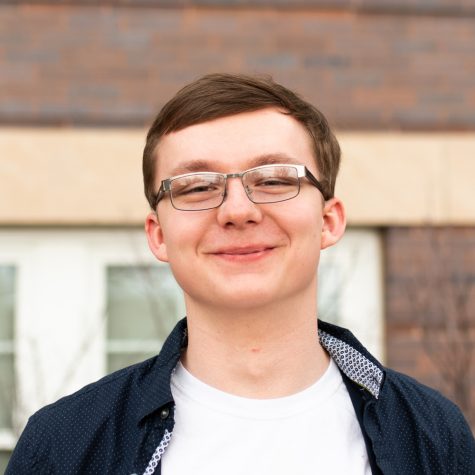 Sean Dunn, News Editor
Sean Dunn is from Coleridge, NE and graduated from Hartington Newcastle High School in 2015. Sean is a senior and is majoring in English Writing and minoring...