Prepare for a walk through the jungle
Wayne State College Theatre program presents its interpretation of the classic children's story, 'The Jungle Book,' starting this week
Wayne State College has an array of wonderful and passionate educators to show students the proper and essential knowledge and skills that pave the way for future careers. However, one special teacher, Dr. Baloo, will teach all of us the "bear necessities" starting Wednesday.
The Wayne State College theatre program will perform the classic children's story "The Jungle Book" today through Friday, as well as Saturday and Sunday in Ramsey Theatre.
"The Jungle Book" is adapted by Monica Flory and produced by special arrangement with Playscripts, Inc. The play is directed by Communication Arts professor Jeanne Tiehen.
"I knew that when I was hired at WSC this past fall I was going to be directing a children's play in the spring," Tiehen said. "My primary concerns were finding a script that would be easy to cast without knowing our actors or knowing who would show up to auditions, and that also had a good number of parts to provide opportunities to students.
"With The Jungle Book I thought actors could have a lot of fun playing animals, that audiences would like seeing a recognizable title, and that our designers could enjoy the process of creating this world on stage."
An important part of organizing the play was finding rehearsal times that worked for all 18 cast members.
"WSC students are very busy and have many commitments, so there was a lot of juggling of rehearsal times," Tiehen said. "We started the process by rehearsing scenes out of order to accommodate many schedules. That being said, the students have been working hard and the result will show that."
The audience won't be the only ones excited for the performance. Some of the actors themselves are geared up and ready to go.
"Being on set is magical. The lighting and the set pieces are so beautiful, and it really feels like a jungle," said senior Abigail Ramold. "There are so many talented and passionate people involved in this show so it's a really fun experience. I get so absorbed in watching the show when I'm backstage that I have to remind myself that I have things I need to be doing."
The performances today through Friday will start at 10 a.m. and again at 1 p.m., and will require reservations to watch.
The performances on Saturday and Sunday will take place at 1 p.m., and will be general admission. Children's tickets are $2, and adult tickets are $5.
Students and faculty are welcome to attend the show free of charge with a valid WSC ID.
About the Contributor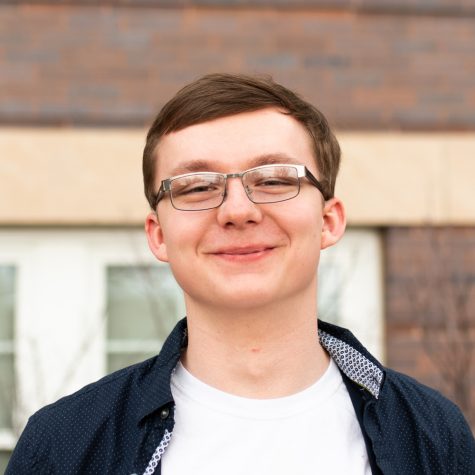 Sean Dunn, News Editor
Sean Dunn is from Coleridge, NE and graduated from Hartington Newcastle High School in 2015. Sean is a senior and is majoring in English Writing and minoring...