Men's basketball has a 1-1 weekend
Hang on for a minute...we're trying to find some more stories you might like.
The Wayne State Wildcat men's basketball team won one of their two contests this past weekend. The 'Cats fell to Bemidji State University 91-70 and defeated University of Minnesota Crookston 85-74.
"Bemidji and Crookston are both teams that were very beatable, so they were important games for us," said junior guard Vance Janssen. "Bemidji came out really aggressive and I don't think we were ready to play."
WSC took an early 9-4 lead before the Beavers took control at 10-9 just
over four minutes into the contest. The Beavers built a 15-point lead by the midway point of the first half and went on to extend their lead to as much as 20 before closing the first half with a 52-34 lead, and a dominating 24-6 advantage over the Wildcats in points in the paint.
"We really tried to slow them down and improve our defense in the second half," said Janssen.
However, BSU continued making shots in the second half, as the Wildcats never got closer than 20 points and led by 29 at the 15:46 mark in the half before closing the game with a final score of 91-70. Junior guard Trevin Joseph Jr. led the Wildcats scoring a career-high 24 points, followed by Janssen with 11 while junior guard Kendall Jacks also added 10 points.
"We knew we needed to get a win Saturday to stay in the hunt for a home conference tournament game," said Janssen.
Joseph bested his career high again against Minnesota Crookston to 26 points, going 8 of 12 from the field and 9 for 10 at the free throw line to help with the Wildcat victory.
"Against Crookston, we moved the ball really well and played as a team," said Janssen.
The Wildcats trailed 35-34 at intermission, then went on to use 57 percent shooting in the second half, going 16 for 28, and a sizeable advantage (46-18) on points in the paint to rally for the win.
After building an eight-point lead at 20-12 early in the first half holding the lead for most of the first half, WSC found themselves trailing by one at halftime as Crookston rallied for a 35-30 lead late in the half before finishing with the 35-34 advantage over the Wildcats.
"Crookston has a really good player who was the main focus for us," said Janssen. "We forced him into some tough shots and it kind of got us going."
The second half was close early as the two teams traded the lead five times with five ties. The game's final tie came at 45-45 with 14:25 to play. Wayne State then took the lead for good scoring the next seven points to take a 52-45 lead on a 3-pointer from senior guard Matt Thomas.
UMC got within two at 56-54, but WSC started to pull away in the final five minutes of the game and took their first double-digit lead of the night at 72-62 on a 3-point play from Joseph with 3:11 remaining in the contest.
"Late in the game we pulled away because we were taking higher percentage shots than they were," said Janssen.
WSC then sealed the win by making free throws late in the contest and was 15 of 17 in the second half to seal off an 85-74 victory over the Golden Eagles.
Joseph's 26 points led the Wildcats in scoring while Jacks contributed 18 points in the win and senior guard Austin Esters and sophomore center Tony Bonner each added 12.
"Winning on Saturday gave us some confidence going into two big games this weekend," said Janssen.
The Wildcats play their final home games of the season this weekend, facing Southwest Minnesota State Friday night at 8 p.m. and Sioux Falls Saturday at 6 p.m. in Rice Auditorium.

About the Writer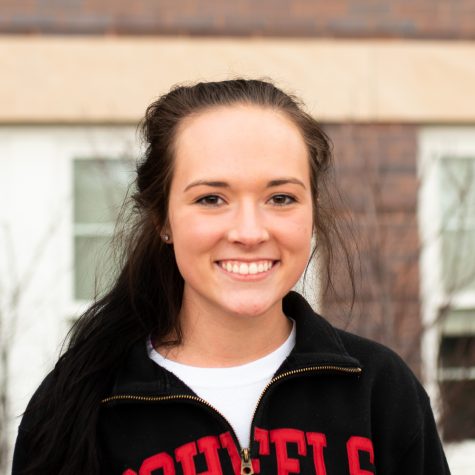 Rachel Vogt, Sports Editor
Rachel Vogt is from Kennard, Nebraska and is a 2016 graduate of Arlington High School. Rachel is a a senior majoring in journalism with a minor in Spanish....