TRiO is set to have a new director
Carstens will be leaving his administration position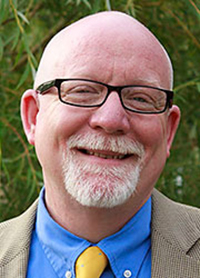 Jeff Carstens will be making a position change from vice president and dean of Student Services to director of TRiO Student Support Services.
As dean of students, Carstens oversees student affairs for the entire college, as well as being a part of the executive leadership team and influencing and implementing new initiatives for students.
"This is a change I asked to make and I am excited about it. As I have spent the last 15 years in administrative positions at Wayne State, I have missed having the in-depth, on-going interactions with students that I was able to have earlier in my career," said Carstens. "Being able to have a personal impact on students, even in a small way, is both challenging and rewarding to me personally and professionally. This type of work is the core of my chosen profession. I miss it and I want to return to it."
TRiO at Wayne State has a long history of success and continues to play a key role in student learning and success. TRiO provides personal support services for students as they adjust to the demands of greater independence and responsibility that are a part of college life.
TRiO also works to empower students with disabilities to lead healthy and enriched lives, by working collaboratively with the Disability Services Office on campus to ensure equal learning opportunities for students with disabilities.
"I think he'd do a great job in any position at WSC because of how involved he is with students," said senior Morgan Parsley. "When I met with him it really seemed like he cared."
Carstens' goal for TRiO is to build on the past to transform Wayne State TRiO into a national model for successful TRiO programs.
"I will miss a lot of things. I'll miss being part of the executive leadership team and having the opportunity to influence and implement exciting new initiatives. I'll miss my association with WSC Athletics and the proud, dedicated staff and student athletes," said Carstens. "Most of all, I'll miss putting on my cap and gown and participating in commencement ceremonies. Looking out from the stage party onto the assembled graduates is when I feel most proud to be a Wildcat. I'll still be there, just off to the side, with a new role but the same pride."
Carstens has already started providing administrative supervision for TRiO while continuing in the vice president position. The remaining duties of his new position have been divided and temporarily assigned to the other professional staff in TRIO, Kara Woehler, Lori Utecht and Chuck Potosnyak. Carstens is continuously meeting with the TRiO staff and trying to learn as much as he can as quickly as he can.
Carstens will continue as the vice president and dean of students until a new vice president starts work on July 1.