Women's basketball narrowly loses back-to-back games
The Wildcats went toe-to-toe with NSU and MSU Moorhead, losing to both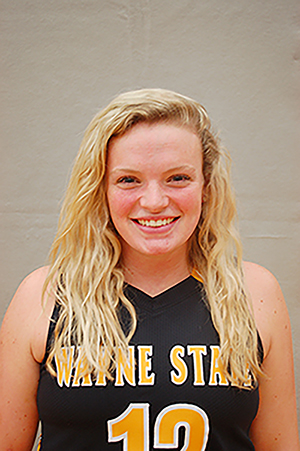 Rachel Vogt, Staff Writer
January 17, 2018
Wayne State's Women's Basketball team suffered two close losses on the road this past weekend, first at Northern State University and a second loss to MSU Moorhead in overtime.
"We knew going into the weekend that we were going to face two really good offensive teams, so we worked a
lot on defense during the week at practice," said WSC Head Coach Chris Kielsmeier.
The Wildcat women fell behind the Northern State Wolves quickly, trailing 7-2 in the first two-and-a-half minutes of the contest.
"Our preparation was good," said junior point guard Maggie Lowe. "We practiced hard all week, I think we just got into the game and got a little worked up at the beginning. We couldn't get a defensive stop when we needed it the most and when your shots aren't falling offensively, it's so important to get stops and
we didn't."
The 'Cats never took the lead, but they came within one point at 15-14 on a 3-pointer delivered by senior forward Maggie Schulte at the 2:12 mark of the first quarter, but the Wolves closed the first quarter with the final four points for a 19-14 lead over the Wildcats.
Northern State took its first double digit lead of the game after scoring the first five points of the second quarter at 24-14. The Wolves ended the first half making 61.3 percent of their shots from the field while WSC was held to only 34 percent on 32 shots.
WSC then outscored NSU 21-20 in the third quarter to cut the lead to 61-49 with one quarter of play remaining in the contest.
Northern State finished the game off with an 81-71 victory over the Wildcats.
Schulte led Wayne State scoring 22 points, going 8 for 16 from the field. Senior center Paige Ballinger also contributed 18 points on 6 of 8 shooting from the field and missing only one of her seven free throws from the line, while Lowe contributed five steals for the 'Cats.
"It's all about our defense, we just haven't been playing like we know we're capable of," said Lowe. "Coach really got on us the night after the Northern game and I think that really put us into gear and opened our eyes. Honestly to see who we are as a team and what we have done this season, and that it wasn't good enough. That's when we decided we had to come out and play extremely hard no matter the outcome and just see what would happen."
The Wildcats turned around following the loss to face MSU Moorhead Dragons the following day, losing by a heartbreaking two points in overtime.
Lowe sparked the 'Cats in the first quarter of play, scoring nine straight points on back-to-back 3-pointers and an additional three-point play to give WSC the lead at 17-9 at the 2:31 mark.
"We started the game really strong and really confident," said Lowe. "We were making shots and getting stops, and I think that carried throughout the game."
But the Dragons went on a 14-1 run to end the first quarter of play and put them ahead 23-18.
WSC trailed for a majority of the second quarter, but tied the score 30-30 on a pair of free throws from Schulte with 2:43 to go until halftime. The Dragons ended the first half with a 35-32 lead over the Wildcats.
A late third quarter scoring rally gave Moorhead their first double-digit lead over the night at 51-41, and the Dragons then closed the quarter with a 56-47 advantage over the Wildcats.
In the fourth quarter, Moorhead pushed their lead to 64-51 with just under eight minutes to play and still held their lead 71-63 with 2:36 to play when the Wildcats fought back. Schulte and senior guard Kacie O'Connor hit back-to-back 3-point shots to trim the Dragon lead to 71-69. After a Moorhead basket, Schulte hit another three to cut the lead to 73-72 with 9.3 remaining in the game.
Moorhead then made two free throws with just under five seconds left in regulation to get a 75-72 lead.
Lowe passed the ball to Schulte for a 3-pointer to send the game into overtime.
"When she shot it, I prayed that she would make it, and she did," said Lowe. "That was so exciting and I knew that their only chance to beat us was in overtime."
The 'Cats took an 84-80 lead early in overtime, but turnovers on their next few possessions gave the Dragons an opportunity to gain an 85-84 lead over WSC with 29 seconds to go in overtime.
The Dragons held on to an 86-84 lead after making a free throw with 13.5 left in overtime. Wayne State then set up for the final shot and Schulte's attempt from the right side of the circle was strong, securing the Dragons with the 86-84 overtime win.
"We just couldn't get stops when we needed them the most," said Lowe. "It was a really fun game to play in, it's just really hard losing like that, but I think we went out playing as hard as we could."
Scholte was the high scorer in the game with 28 points. Ballinger and freshman center Brittany Bongartz each contributed 13 points while Lowe and junior forward Andrea Larson each had 12.
"I think what any coach would want to see is improvement in all aspects of the game," said Kielsmeier. "I'm trying to push them to be better all around, and the biggest challenge is finding a way to play our best game sooner rather than later. I'm also trying to get the girls to understand how special this time is in their lives, getting to play together and have fun before they graduate and go their separate ways."
Wayne State will be hosting Winona State Friday night at 6 p.m. and Upper Iowa Saturday.