Volleyball takes losses against tough opponents
Evelyn Knox, Staff Writer
November 1, 2017
The Wayne State Volleyball team went 0-2 last weekend in Rice Auditorium while facing NSIC conference opponents Upper Iowa and Winona State, dropping its overall record to 15-10. The Wildcats are now 8-7 in conference play.
"This weekend, we learned a lot as a team and what areas we need to improve on," said Jaci Brahmer, sophomore. "We will continue to focus on our upcoming games and getting better each day."
Wayne State opened up the weekend of contests Friday evening in Rice Auditorium falling to a tough Upper Iowa team 3-2. In the first set, Wayne State held off Upper Iowa to rally for a 25-23 set win. The Wildcats came out hitting well, with 18 kills and a .390 attack percentage. In the first set, Erin Gross contributed seven kills with Brahmer, adding six for Wayne State.
The second set featured six ties. With help from Brahmer, who added seven kills in the set and just one attack error, WSC won the set 25-23.
Wayne State lost the third set 25-21, with nine ties and four lead changes. Upper Iowa continued its dominance, winning the fourth set 25-9 forcing a fifth and deciding set. Wayne State trailed most of the fifth set, falling 15-12 to lose the match 3-2.
Upper Iowa held a 76-65 edge in kills over Wayne state and 98-78 in digs. Brahmer ended the night with a career high 21 kills on .543 attack percentage to lead the 'Cats. Gross contributed 19 kills along with Katie Stephens adding 12, along with 16 digs making it her fifth double-double for the year. Junior setter Megan Gebhardt also contributed a double-double for Wayne State with 56 set assists and 12 digs. Sophomore libero Haley Kauth added 17 digs while Senior Bree Ackermann added 11.
In the second game of the weekend, Wayne State fell to No. 17 Winona State 3-1 Saturday afternoon at Rice Auditorium.
Early in the first set, WSC led Winona State 8-5, with help from Stephens who produced five kills.
The Wildcats were able to win the first set 25-22. Tarrin Beller and Alyssa Ballenger contributed kills for Wayne State.
The Warriors moved on to dominate and win both the second and third sets 25-20 over the Wildcats. WSC trailed most of the fourth set, but lost 25-21, Winona State moved on to win the match 3-1. Brahmer led WSC in the final set with four kills while sophomore Morgan Alexander had a team-high seven digs with one service ace.
Stephens led Wayne State with 14 kills and 13 digs, Brahmer added 10 kills and five blocks. Kauth accounted for 24 digs, and freshman Maddie Duffy accounted for two of Wayne State's six service aces. Gebhardt dished out a team high 26 set assists.
"After going 0-2 on the weekend we just really need to focus as a team, stay disciplined and each one of us needs to do our jobs," said Beller. "We need to continue to pick each other up and keep the positive energy on our side."
Wayne State will face NSIC conference opponent No. 15 Augustana, Tuesday evening at 6.
About the Contributors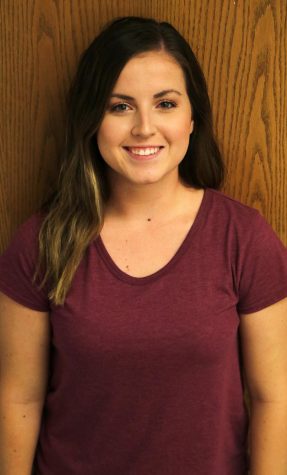 Mallory Carothers, Lifestyles Editor
Mallory Carothers is from South Sioux City, NE and graduated from South Sioux City High School in 2015. Mallory is a senior and is majoring in Elementary...