'At some point the conversation isn't enough'
Student Leadership and Diversity Conference at WSC
Hang on for a minute...we're trying to find some more stories you might like.
Keynote speaker Nicholas Banks spoke about racism and how things can and need to change as a participant in the Student Leadership and Diversity Conference last Friday in Gardner Hall.
Banks, a UNL graduate who works as a retention specialist at UNO, discussed how views of ourselves and others make us see the world and affect our decisions.
"There are more women here than there are men; I'm at a disadvantage. There are more people here that are white or Caucasian; I'm at a disadvantage. There are people here with more hair than I have; I'm at a disadvantage," Banks said.
"But at no point," he continued, "would I inherently say that because you are white, because you are female, because you have hair, because you are taller, because you play basketball, because you wear plaid, whatever the case may be, am I going to say inherently that you are better or that you deserve something that I do not have."
He explained that we need to be able to fight for change.
We need to be willing to go against the things that currently are in order to make things better.
"I'm going to buck, I'm going to fight, if ever you feel like any of the places that you occupy take precedent over the places that I occupy," Banks said.
At UNO, Banks has a double advising appointment for the National Pan-Hellenic Council and UNO's new Black Student Union: Black Excellence.
Banks had the audience members stand and give a promise to be better the next day, and continue to get better every day.
"We are inundated with distractions to keep us from finding solutions to the issues that we, the citizenry, have said to be important," Banks said.
He made the point that we need to stop letting ourselves be distracted if we think that there is a cause to fight for.
"In order for us to move past the things that we have been talking about today and for the past few years, at some point the conversation isn't enough. It actually has to move into action," Banks said.
"Action like religious tolerance, action like supporting the LGBTQIA community, regardless of what your personal beliefs are, understanding that civil liberties for one affect the civil liberties of us all."

About the Writer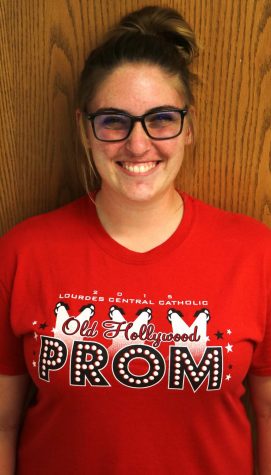 Julia Baxter, Photo Editor
Julia Baxter is from Plattsmouth, NE and graduated from Lourdes Central Catholic High School in 2016. She is currently a junior at WSC. She participates...