'Barefoot in the Park'
Hang on for a minute...we're trying to find some more stories you might like.
"Barefoot in the Park" had students enthralled with its constant ups and downs in Ramsey Theater on Friday.
Students were sitting on the edge of their seats as they witnessed the first few days of the marriage of Corie Bratter, played by Whitney Miller, and Paul Bratter, played by Hunter S. Hash.
The romantic comedy takes the audience through the post-honeymoon in their small new apartment in New York City. The young couple suffers through a broken skylight and snow in the apartment.
In another comedic moment, Corie sets up her mother, Mrs. Banks (Laurie Dawn), on a blind date with their eccentric upstairs neighbor, Victor Velasco (Mark Kuntz).
The show was performed at Wayne State College by the Montana Repertory Theatre. The group is presenting 47 shows in 14 states during this tour and the campus was happy to have been included on the list
"This is the 50th year that this company has been running plays," stage manager Hope Kelly said.
Students laughed with the ridiculous antics of Victor and cried along with Corie when she thought her marriage was a mistake.
"We need some comedy these days," Kelly said.
The show definitely takes a lot of effort. Set up, on average, takes about six hours and tear down time takes three, including loading and unloading time.
This tour is included as a class for the two University of Montana students involved in the production. There are also four other hired actors who are not students.
The tour takes a toll on them, but it's always worth it.
"Find the joy-that's the only way to get through this during the hard times," Kelly said.

About the Contributor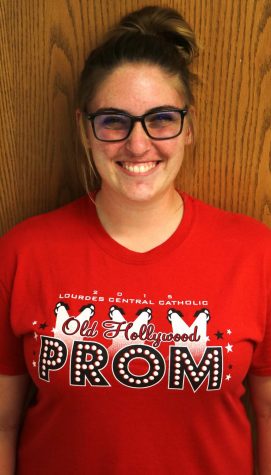 Julia Baxter, Photo Editor
Julia Baxter is from Plattsmouth, NE and graduated from Lourdes Central Catholic High School in 2016. She is currently a junior at WSC. She participates...