Theatre nerds unite in Des Moines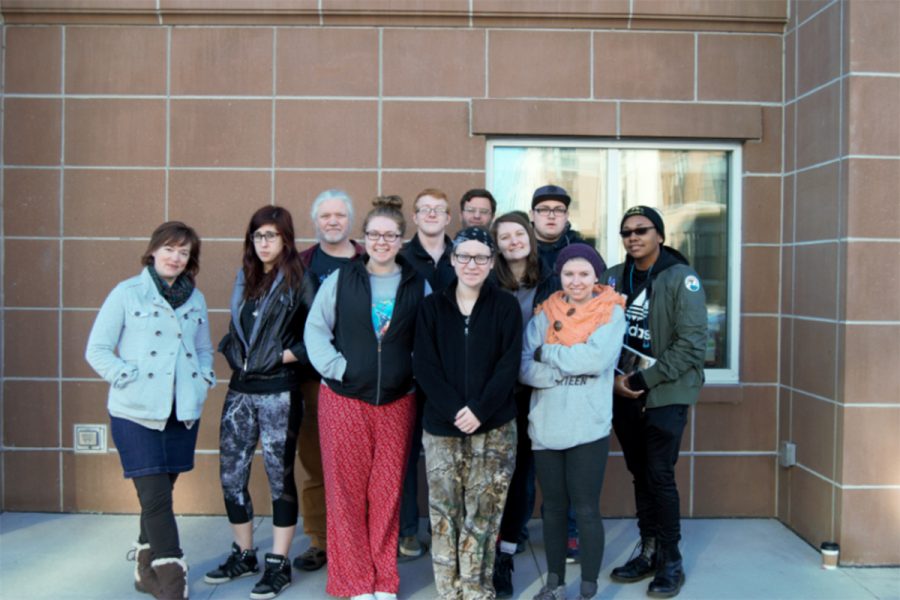 Victoria McNamara, Guest Writer
February 1, 2017
I have been acting all my life and it is truly a passion of mine. When I learned that I had the opportunity to go on a week-long trip to a theatre conference, I knew I could not pass it up. Now I know what you may be thinking: "WOW, what a nerd!" and I will completely agree with you. I am a theatre nerd, loud and proud!

The Kennedy Center American College Theatre Festival (KCACTF) is a theatre conference held regionally for college students. This year it was held in Des Moines and there were around 1,500 attendees. So, in all honesty it was a gathering of hundreds of theatre nerds singing show tunes, acting out over dramatic scenes, working out the technical difficulties and going to various different workshops that encompass all aspects of life in the theatre.

I had the opportunity to go to eight fantastic workshops, three plays, one musical and two audition processes. Doug Sholz-Carlson, of the Great River Shakespeare Festival, put on a workshop about how Shakespeare text should be read from the first folio, meaning using the old original text and punctuation that really doesn't make sense to this generation. Violet Saylor of the National Theatre Institute also did a workshop on Shakespeare with a different view. It was about making the first folio of Shakespeare contemporary and understandable to the modern age. She worked with us on figuring out what the text was really saying so that we could communicate better through our actions to tell the story.

Dr. Joy Powell of Missouri Baptist University did a workshop titled "Be True to Yourself: Navigating Musical Theatre Auditions." I thought this was only going to be a workshop about what to expect when auditioning, but Powell put her own special twist on it. She told us that the only way to successfully audition in the world of musical theatre is to be true to yourself and don't try to be anyone else. It was insanely inspirational, motivational and completely correct. How can we expect anyone to want to hire us if we are not going to be ourselves?

The last two workshops I went to were actually a workshop and an audition for the Open Jar Institute, which is a week-long summer program in New York City. Jeff Whiting, who runs the program, came to the festival to put on a dance boot camp workshop and held auditions for the summer program. I took advantage of the opportunity and auditioned for the program. In a few weeks, they will send out emails to say who made it into the program, so my fingers are crossed, hoping to hear good news.

Another great opportunity I was given on this trip was to help one of my classmates, Benjamin Bjorklund, with his Irene Ryan Scholarship audition as his scene partner. The auditions were planned so intricately and all the people preforming were so incredible, it was an honor to be there. We also got the chance to sign up for tickets to go see shows and experience different types of theatre.

This by far was the greatest trip I have ever had the opportunity to go on as a college student. It gave me great insight about what a future would like in the theatre world. It also allowed me to meet so many people who could be future contacts in the field.

The week was also very fast paced and showed me what it really is like in the theatre world. You could have a day packed with auditions, not get a call back for anything and get up the next day and do it all over again.

The world of theatre is all about the constantly moving lifestyle, and you have no time to stop and sulk about the things that don't happen. Days are long and then turn into late nights, meaning that you must take as much time for yourself as you can.

This whole experience was eye opening and reassuring for someone who is thinking about going into this field. I would definitely recommend this trip to anyone who is thinking on going to a career in the performing arts.