Close game ends in a loss for the Wildcats
A late goal-line stand of the Wildcat offense was the difference between victory and defeat for the Wayne State football team Saturday, as the 'Cats fell to Upper Iowa 35-30. WSC is now 3-6 on the season and 2-3 in NSIC South play.

"It was exciting and fun to go back and forth the entire game, but it sure would have been nice to win it," Head Coach Dan McLaughlin said.

The 'Cats got off to an early lead, stamping off a nine-play, 82-yard drive with a two-yard scamper from quarterback Zach Osborn to give WSC a quick 7-0 lead. A WSC punt was sandwiched by two Upper Iowa scoring drives, and 'Cats kicker Ethan Knudson was true on a 34-yard field goal on the second play of the second quarter to make it a 14-10 contest.

The two electric offenses traded blows, each scoring two more touchdowns in a high-powered first half that ended with an Osborn touchdown strike to Nate Rogers in the final seconds.

After a back-and-forth first half, both defenses settled in, as Upper Iowa was able to score in the third only after an Alex Kline fumble gave the Peacocks a short, 22-yard field to work with. A four-play drive was turned into a touchdown, putting Upper Iowa up 35-24.

The score remained that way until half-way through the fourth, when a strong 12-play, 93-yard drive was capped by Kline's second rushing touchdown of the afternoon, cutting the 'Cats deficit to 35-30 after a failed two-point conversion attempt.

The 'Cats had one final shot, getting the ball at their own 19-yard line with over six minutes to play. Two fourth down conversions and a wonderful drive led by Osborn put the 'Cats inside the Upper Iowa five-yard line, where the Peacocks defense forced two incompletions to wrap up the contest.

Osborn turned in yet another strong performance Saturday, completing 29 of his 45 pass attempts for 314 yards with one touchdown and one interception. He added 86 yards and a score on the ground as well to continue his strong senior season.

"He's played well all season coming back from injury," McLaughlin said. "He was a little rusty to start the year, but he's really gotten better and improved."

The 'Cats final home game is Saturday against a strong Minnesota State team. The Mavericks are struggling a bit by their standards with a 6-3 record, but McLaughlin knows the 'Cats will need to play their A-game to win.

"Minnesota State has been a national power these past few years, and it's exciting to have that opportunity in our last home game."

The 'Cats will take the field at 1 p.m. Saturday at Bob Cunningham Field.
WSC 7 17 0 6 30
UIU 14 14 7 0 35
Scoring Summary
1st 11:11 WSC Osborn, Zach 2 yd run (Knudson, Ethan kick) 9 plays, 82 yards, TOP 3:49; 7 – 0
09:11 UIU Edmonds,J. 4 yd pass from Morales,D. (Beuschel,B. kick) 9 plays, 72 yards, TOP 1:53; 7 – 7
05:42 UIU Amis,J. 9 yd pass from Morales,D. (Beuschel,B. kick) 6 plays, 62 yards, TOP 1:27; 7 – 14
2nd 14:49 WSC Knudson, Ethan 34 yd field goal 13 plays, 59 yards, TOP 5:44; 10 – 14
10:56 UIU Morales,D. 15 yd run (Beuschel,B. kick) 12 plays, 78 yards, TOP 3:44; 10 – 21
07:59 WSC Kline, Alex 35 yd run (Knudson, Ethan kick) 7 plays, 69 yards, TOP 2:50; 17 – 21
05:02 UIU Parmely,R. 1 yd run (Beuschel,B. kick) 8 plays, 82 yards, TOP 2:50; 17 – 28
00:12 WSC Rogers, Nate 7 yd pass from Osborn, Zach (Knudson, Ethan kick) 2 plays, 34 yards, TOP 0:11; 24 – 28
3rd 10:44 UIU MacTaggart,T. 9 yd pass from Morales,D. (Beuschel,B. kick) 4 plays, 22 yards, TOP 1:08; 24 – 35
4th 07:45 WSC Kline, Alex 2 yd run (Osborn, Zach rush failed) 12 plays, 93 yards, TOP 5:01; 30 – 35
About the Writer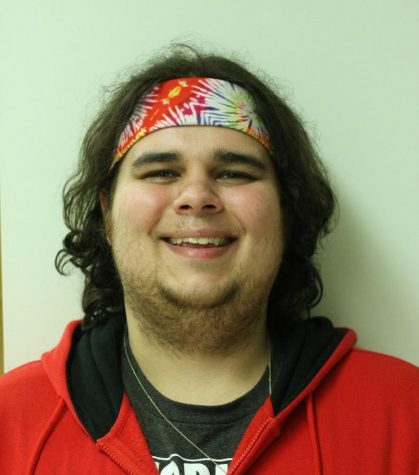 Mason Schweizer, Opinion Editor
Mason Schweizer is a senior majoring in journalism.

He is currently serving as the opinion editor.

He loves his Chicago sports teams and the Mod...