Building a solid foundation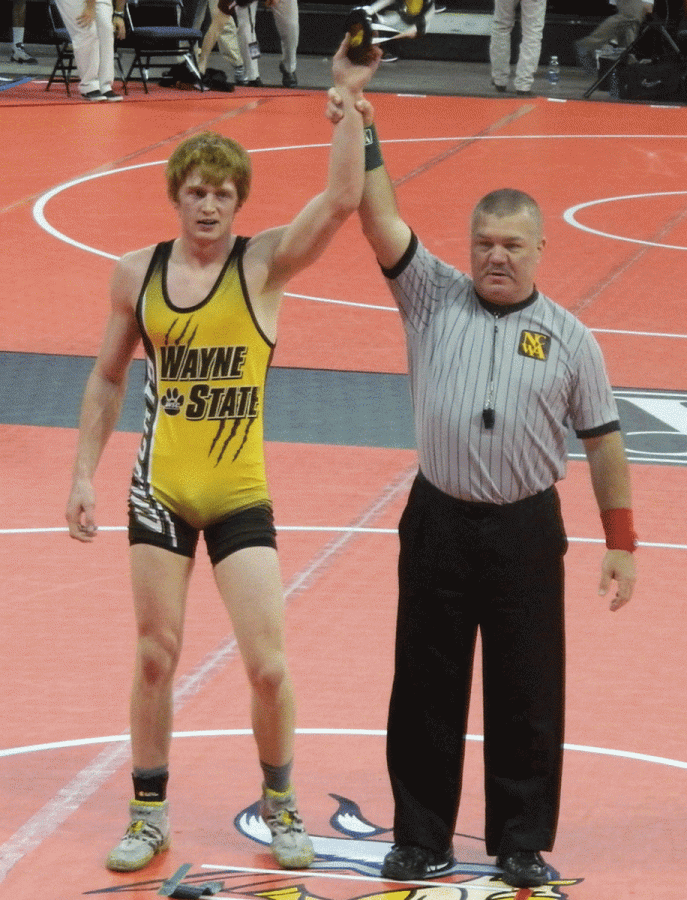 Samantha Roh, Staff Writer
March 19, 2014
The Wayne State College wrestling club finished just shy of the top ten at the National Collegiate Wrestling Association National Tournament in Allen, Texas, over spring break.
WSC posted an 11th-place finish at a tournament that consisted of over 80 teams, 50 of which were Division II.
Nationals started tough on Thursday, with WSC going 0-7, but the guys wrestled hard and had a couple of close losses on the day.
The longer the competition went on, the more successful WSC became.
Junior Jon Williams led the way for the Wildcats, earning 8th place and All-American status.
"It has been one of my major goals and to accomplish it means a lot to me," Williams said. "It was an amazing feeling after winning my match in the heartbreak round (getting into the placing rounds) to look up and see all my teammates going crazy."
Williams said he would not have succeeded without his coaches and teammates pushing him.
"Coach Vander Weil and coach Schuett always know how to encourage me to wrestle my best," Williams said. "My teammates make practices and tournaments fun."
Williams began preparing mentally and physically the day after the national tournament last year and will continue to grow.
Sophomore Matthew DeGarmo also did well making it to the round of 16. DeGarmo finished 2-2 with two pins.
After working hard all season, WSC saw success at the end.
"We peaked at the right time," Vander Weil said. "The guys did their best at conference and nationals."
Lone senior Jon Mullen completed his collegiate wrestling career at nationals. The runner-up in Mullen's weight class this year was a wrestler Mullen pinned last year.
"To be an All-American it really is giving the best performance at the right time," Vander Weil said.
Mullen molded into the vocal and positive leader the team needed.
"Coaches can say and do so much but someone inside needs to talk with their peers," Vander Weil said.
Other WSC winners include Gerrit Van Engen, Robbie Thomsen, Patrick Donnelly and Michael Hart.
Tanner O'Gorman, Alex Calderon, Zach Miller, Devon Rupp and Ryan Burnison also gained experience for next year by qualifying for Nationals.
Vander Weil is proud of the total numbers and commitment of wrestlers this season. WSC will return 16 wrestlers and 12 national qualifiers.
"The guys are already looking forward to next season," Vander Weil said. "That's the real paycheck."
Vander Weil was named NCWA Great Plains Conference coach of the year, but the honor would not have come without the help of coach Andrew Schuett.
"Schuett provided the best technique and conditioning practices, which enabled the wrestler to achieve the level of success enjoyed by the programs this season," Vander Weil said.
The number of wrestlers and success of the team will also help in recruiting for next year.
Wrestlers, coaches and officials around the country know WSC now as a quality program and a potent threat in the future.
"Networking, recruitment and recognition of Wayne State is the best it has ever been," Vander Weil said.