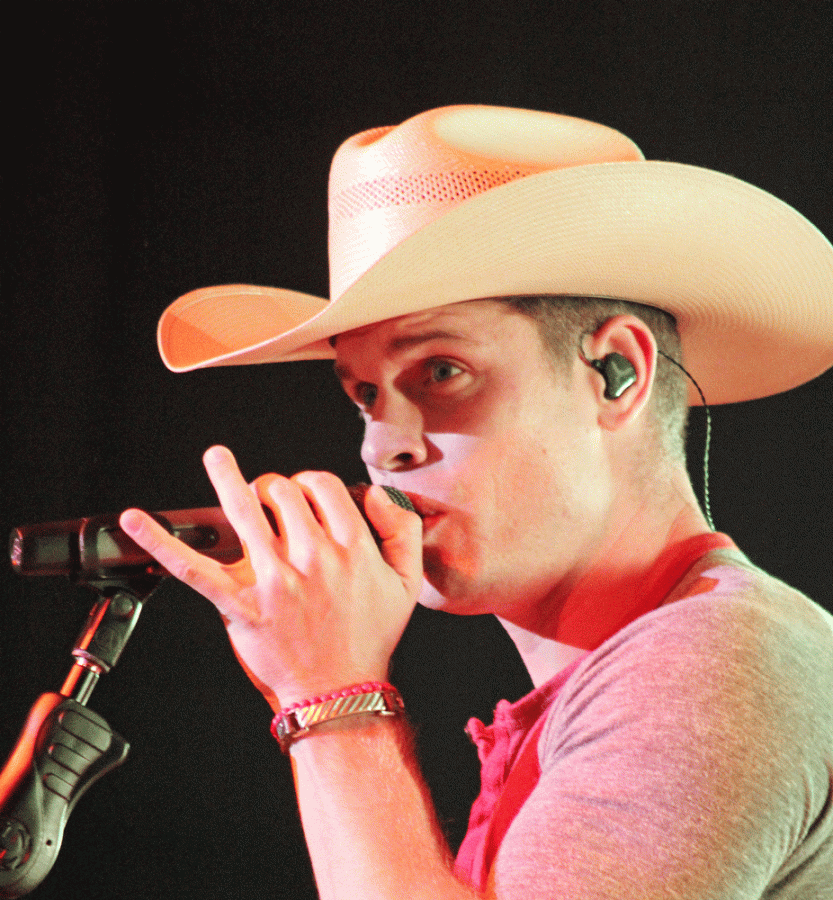 Asia Berg
Sweat-smelling, "hell yeah" screaming, shoulder-riding college students filled up Rice Auditorium on Friday night to hear country artist Dustin Lynch.
Opening the performance about 15 minutes after the advertised time was Adam Craig. Craig sang some of his original songs, and also performed some covers. I liked that he did covers of other songs, including well-known ones such as Randy Houser's "How Country Feels." I've had a hard time liking openers in the past, simply because I tend to not be familiar with their songs. Adam Craig's Band did a fantastic job of connecting with the overly hyper audience.
Though he was scheduled to perform at 9, Dustin Lynch made it onto the stage around 9:20. I was getting a little anxious, mostly due to a guy getting a little too close for comfort. Finally, accompanied by a mass of ear-piercing screams and head-elbowing hand waves from the crowd, Dustin Lynch took the stage.
He was a personable guy, talking with the audience and encouraging them to "get up on someone's shoulders, I don't give a crap." He even took selfies with a few girls' phones who had thrown them up on the stage.
"What's the big bar here called, 'Max's?'" he asked the crowd. "Max? Oh, The Max," he magically interpreted from all the screaming. When someone threw a piece of paper on the stage that read "Good for one free drink at the White Dog Pub," Lynch said, "That or 10 free shots at The Max? I'm going to The Max." And threw the paper behind him.
He enthusiastically sang all the songs I wanted to hear during that concert: "Hell of a Night," "Where It's At" and "Cowboys and Angels," which is the first country song I learned on the piano. That was the one I had been waiting for. When Lynch revealed he was about to sing it, he told the audience that it had just been "the 60th wedding anniversary of the original cowboy and angel," his grandparents. The string solo was missing from the song, but I enjoyed it nonetheless.
The concert ran neither too long nor short: it was obvious when it was coming to an end, which was after two hours of Lynch performing.
Dustin Lynch is a very genuine guy. I got to meet him before the concert, and though I was told I could not interview him (see staff editorial), when I requested to squeeze in a few questions he told me to fire them off. He took pictures with each of the winners of the meet-and-greet, asking their names and general questions.
Overall, the concert was a success: the turnout was good, the bands were incredible and, unlike most artists, they sounded shockingly good live.
If you weren't there, I'd say you missed out because that's where it was at.