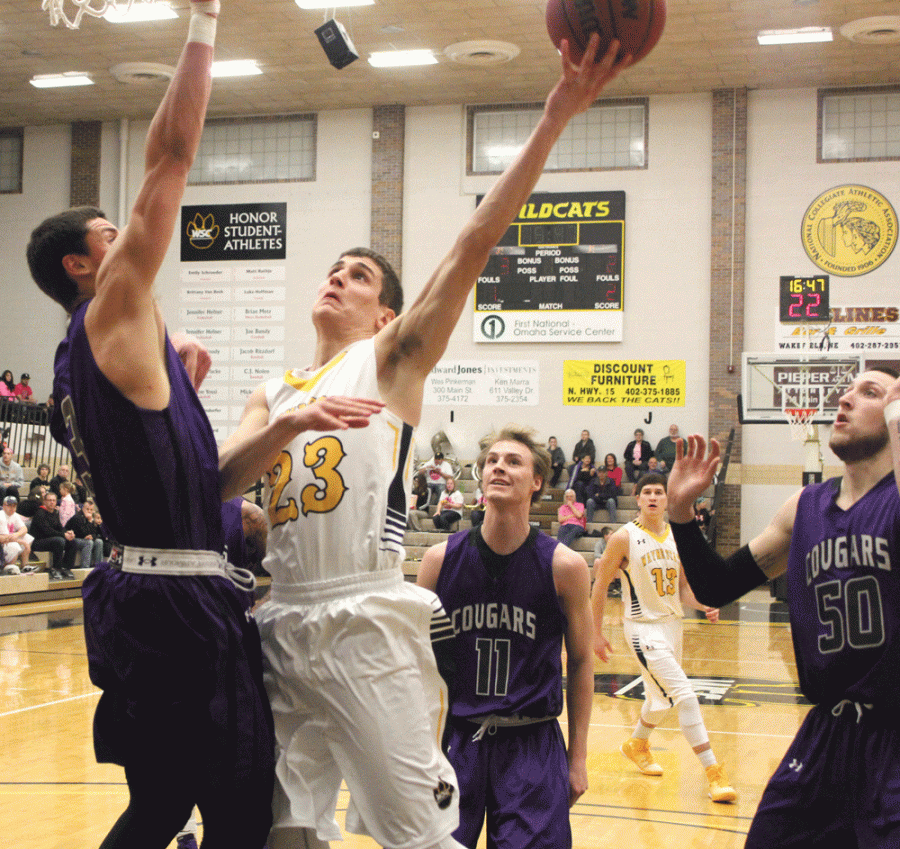 Richard Rhoden
The ending to the men's basketball season was not what the Wildcats were hoping for.
Wayne State lost 82-63 Friday night on the road against the Winona State Warriors. After the score was tied three times, the Wildcats eventually fell behind in the first half 31-20.
"I felt like it was similar to other games we've had this year. We had a couple mistakes on the defensive end in multiple trips," head coach Brian Dolan said. "We played a team with a little bit more experience and a few older guys. They did a nice job of taking advantage of it and putting some distance between us and them going in at halftime."
Wayne state came out strong in the second half and caught up. Kendall Jacks made a shot to cut the lead to only one. Shortly after that, Winona's Nick Arenz fouled Jordan Cornelius who made the first free throw which gave the Wildcats their last lead of the night.
The Warriors gained a 16-point lead to leave the Wildcats playing catch up.
Joel Heesch and Patrick Kurth led Wayne State with 14 points each, followed by Cornelius with 11 points.
Saturday night Wayne State played Upper Iowa only to lose 92-86. The Wildcats came out strong and built a 20-point lead in the first half against the Peacocks. As the first half continued, the Wildcats held a 17-point lead until the Peacocks came back to close the gap 44-38 by halftime.
After halftime, the Peacocks came back to tie the score 50-50 with 16:10 remaining. Then Heesch scored two consecutive baskets to get the lead back to 54-50.
The Peacocks came rallying back to end up taking the lead until 7:54 was left in the game. Then Wildcat Trae VandeBerg hit a 3-pointer to tie the game 64-64. Then Peacock Jace Hanna led Upper Iowa to the 6-point win.
"I thought the kids played really hard and competed. They executed the game plan very well," Dolan said. "Upper Iowa made a few more plays than we did down the stretch and that's what made the difference in the game. I was very proud of how the kids competed and left everything out on the floor."
The Wildcats compete Wednesday night at 8 p.m. at Moorhead. The game can be viewed at www.NSIC.org.
Moorhead is ranked eighth in Div. II and the number one seed out of the North.
Last season, Wayne State recorded arguably the biggest upset in the history of the NSIC Sanford Health Men's Tournament as the Wildcats went on the road as the No. 7 seed in the South and won at NSIC Co-North Division champion and No. 2 seeded Bemidji State 88-76.
__________________________________________________________
Winona 82, Wayne State 63
Wayne State…………..30 33-63
Winona……………….41 41-82
WSC: Heesch 14, Kurth 14, Cornelius 11, Jacks 8, Esters 6, VandeBerg 4, Holdsworth 4, Ross 2
WSU: Isaiah 20, Bauman 14, Wagner 13, Ben Ammar 12, Masberg 11, Blacklock 9, Arenz 2, Jeffs 1
Upper Iowa 92, Wayne State 86
Wayne State……………44 42-86
Upper Iowa………………..38 54-92
WSC: VandeBerg 23, Kurth 16, Jacks 14, Nagy 9, Heesch 8, Cornelius 7, Esters 4, Ross 3, Holdsworth 2
UI: Lenhart 23, Roth 20, Hughes 12, Weeber 11, Lang 7, Parker 6, Hanna 5, Pagel 4, Gamble 2, Hay 2