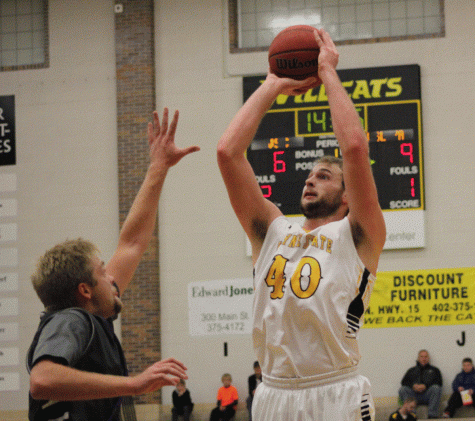 The Wayne State men's basketball team found themselves an inside presence.
Patrick Kurth is a 6'9" big man for the Wildcats, and he showed everything he is capable of Thursday night at Rice Auditorium.
He recorded 20 points and 13 rebounds, both career-highs, as Wayne State defeated Iowa Wesleyan 81-63. It was Wayne State's first win of the season and brought their record to 1-2 on the young season.
Wayne State had trouble early against Iowa Wesleyan, trailing 9-6 after about six minutes of play. The Wildcats found their groove, going on a 15-2 run to make the score 21-11 with 11:20 to go in the half.
It was an even battle for the remainder of the first half, as the Wildcats outscored the Tigers 21-20 to make the halftime score 42-21.
The Wildcats were 57 percent from the field in the first half, but only made 5-13 attempts from the free throw line.
The second half was much of the same for both teams, as the Wildcats outscored the Tigers 39-32 and went on to the 81-63.
Wayne State finished the game 53 percent from the field, making 32 of 61 shots. They made adjustments at the free throw line, making 5 of 6 in the second half, moving the number to 10 of 19 by the end of the game, just over 50 percent.
Besides Kurth, two other Wildcats were in double-figures, as Jamie Pearson scored 15 while Jordan Holdsworth recorded 12.
Wayne State scored 42 points in the paint along with almost half of their points coming from the bench, in large part of Pearson and Holdsworth.
The one concerning number for the Wildcats was 26. That was the number of turnovers committed by Wayne State in the game.
Wayne State will take its 1-2 record up to Sioux Falls Monday night to face a familiar foe in Augustana Monday night at 8 p.m.