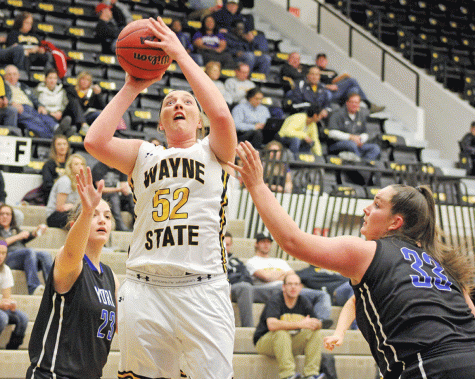 It's always a good night when you win. It's an even better when you score 1,000 points.
Jordan Spencer scored her 1,000th career point against York College Wednesday night in a 110-33 victory at Rice Auditorium.
Spencer scored a team-high 22 in the contest, catapulting her to the exclusive 1,000 point club in Wayne State women's basketball history.
"Jordan has become a lot better leader, which is something our program has needed, and when she's enthusiastic and so positive it just uplifts all of her teammates and just meant a lot to our program," Kielsmeier said. "She puts points on the board, she defends, rebounds, she does a lot for us on the court and leading us off the court.
"Jordan Spencer just wants to win, that's the bottom line."
Spencer became the 18th player in school history to reach the 1,000 point club, and joins her teammate Ashton Yossi, who after scoring eight points in the win moves to 15th on the list, passing Claire Duwelius and has 1,078.
"She is extremely unselfish, she just wants to win and that's what drives her," Kielsmeier said. "What more do you want from a kid?"
As for the rest of the game, the Wildcats showed off their offensive and defensive prowess early. After York College scored the first bucket, Wayne State went on to score the next 13 points.
After almost 11 minutes of play, the Wildcats had padded their lead to 33-7. Wayne State continued the hot streak, taking a 54-18 lead to the break.
It didn't get much better for York College in the second half, as the Wildcat players, new and old, continued their almost-perfect play.
It was the second-most points scored in a single game by the Lady Wildcats, trailing only 120 scored by the 1976-77 team against South Dakota Tech.
"We played really well, I told them that I don't say that very often, because it is very difficult to make me feel like we played really well," Kielsmeier said. "Defensively we defended; offensively our ball movement was just outstanding, very unselfish play."
Spencer led the team with 22 points on 9 of 11 shooting and 8 rebounds. Four other Wildcats found themselves in double-digits as Kacie O' Connor scored 14, Haley Moore had 12, Sadie Murren recorded 11 and Paige Ballinger pocketed 10.
It was a good chance for Kielsmeier to see what he had in some of his younger players, as everyone saw at least a chunk of playing time.
"Our younger players have just struggled with the system so far and haven't been able to play very well because it takes time in our system and you just have to let the process take care of itself," Kielsmeier said. "Every player played well and it was a great performance by our program tonight."
The Wildcats shot 59 percent from the field and 48 percent from behind the arc. The Wildcats made 13 three-pointers, including O' Connor with four of them.
And with the rebounding struggles the Wildcats had last weekend, Wayne State recorded 36 rebounds in the game, as well as 16 of them on the offensive side.
"Rebounding was something that we struggled with last weekend and we got a lot better rebounding tonight and just got better in all aspects," Kielsmeier said.
The Wildcats have one more non-conference game Friday at home vs. Chadron State at 6 p.m., before starting conference play Monday night at Augustana.