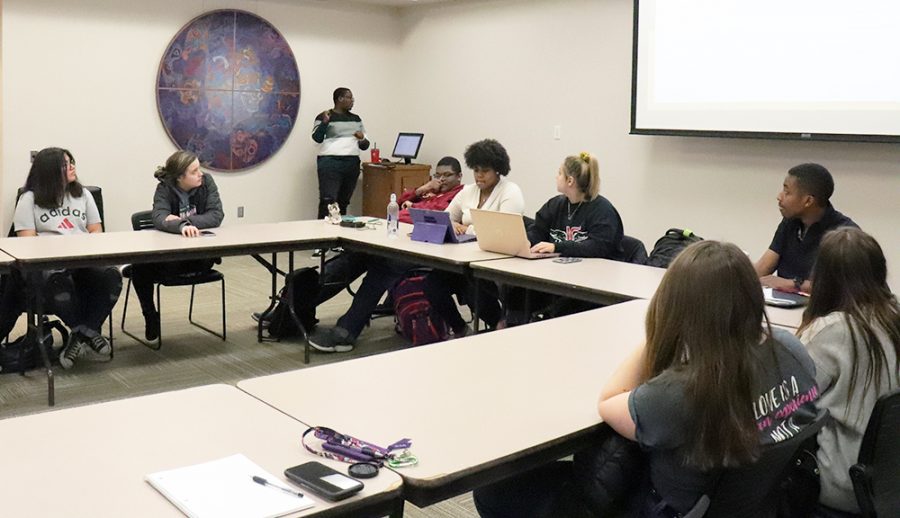 Whitney Winter
As African American History Month festivities commence at WSC, the Black Student Association club hopes to promote accepting, affirming and aspiring to all students.
The club was formed in the fall 2016 by alumna Cha'Rae Brown and Jeremiah Woods, a WSC senior. "When me and Cha'Rae started this club, we really wanted to represent some of the minority groups and our intention when we first started it, was to create an atmosphere for everyone," Woods said.
BSA officers include President Devyn Davis, who was vice-president the last year and a half; vice-president, freshman Serenity Loving; sophomore Lucia Martinez, an active member since 2017, is secretary; founder Woods is the club's treasurer; and Marlon Harrison, who has been a member since 2017, is the club historian.
"We are celebrating Black History Month with our annual Hip-Hop Night dance, it'll be an educational and fun experience," Davis said. "We'll go over the history of hip-hop and how it's affected the world and how it has evolved into so many different things and how it has evolved. The Hip-Hop night is co-sponsored by the Student Activity Board.
The BSA and the Student Activity Board at WSC have partnered with Chartwells dining service and the Smithsonian African American History Museum to offer students the opportunity to celebrate African American History Month through food. Recipes from the Sweet Home Café of the National Museum of African American History and Culture will be featured three times in February, including Feb. 21 and 25 during the dinner meal period.
"For Black History Month, we do things for Martin Luther King, Jr. Day… and we just want to bring awareness to black culture on campus, which a lot of students really get on a day-to-day basis back at home," Harrison said.
The BSA spear-headed the 'Inclusion Chair' on the student senate which serves as the direct voice for minority groups on campus. "It's always important to recognize minority clubs and show representation on campus because without it, it [campus] would lack representation of certain ethnic groups," Davis said.
"I think it is essential to understand the basis of black history because… it's kind of what made the U.S.," Woods said. All of the board members agreed that African American heroes helped shape and build the framework of America.
African American History Month is an entire month dedicated to honoring and celebrating African American culture and their achievements. This month is about empowering young African American minds and helping people see them for who they are, brilliant and powerful, Davis said.
"I just really want people of color and all groups of minorities to just feel empowered on campus," Davis said.
Loving shared her view of the importance of Black History Month.
"For me being a black woman in today's society, this month just has so much meaning behind it because of our history and where we come from," Loving said. "I think this month is really important to society because it's able to give them an education on our culture and our past and things they are not taught in school."