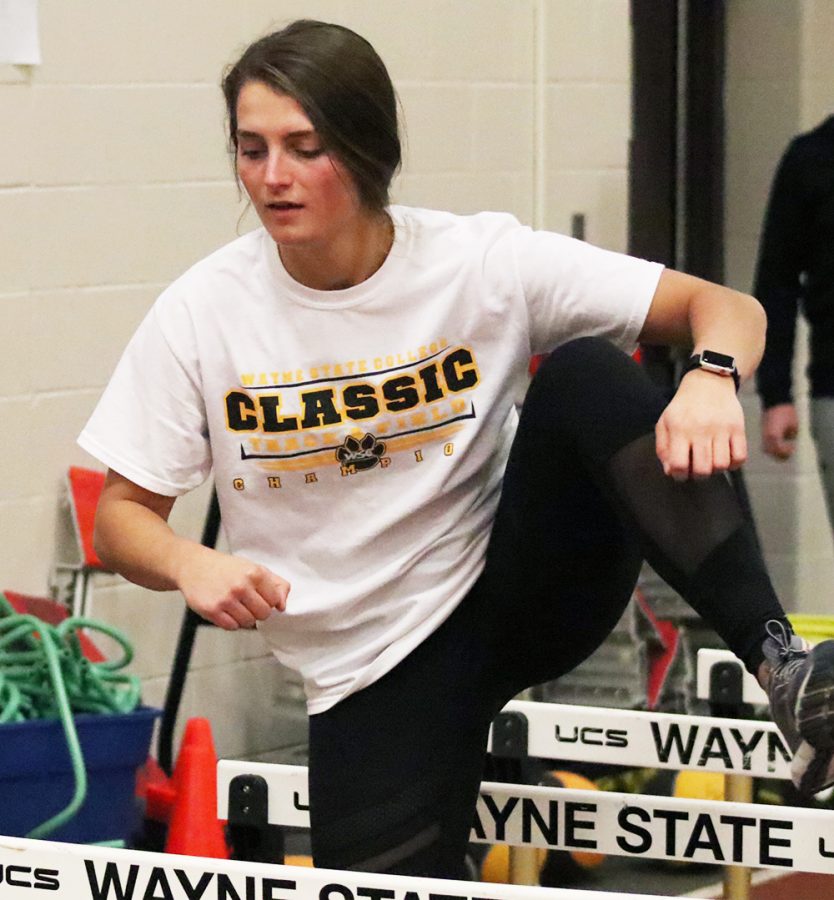 Wayne State track and field athletes were busy last week, traveling to the University of Nebraska-Lincoln on Feb. 7 and to the University of South Dakota/Vermillion on Feb. 8.
On both days there were some notable improvements made.
"I felt we made some good progress in a few areas, but we still have plenty of room to improve to get athletes into position to have a chance to compete well in the NSIC Championship," head coach Marlon Brink said.
The meet at USD Vermillion allowed WSC throwers to show their skill. Cade Kalkowski, junior, placed fifth at Friday's UNL invitational with 65' 3 ½" weight throw. On Saturday, he placed first at the USD meet with a throw of 66' 9 ¾". His marks for Saturday slot him as sixth in the NCAA Division II.
Kalkowski said he believes his hard work and focus is beginning to pay off. Senior Dylan Kaup lead in at eighth place on Friday (61' 9 ¾"). Later, Saturday he made is best throw (61' 10 ¼"), placing him at second.
Sophomore Mckenzie Scheil took third place at Lincoln with a weight throw of 61' 1 ½", and took first for weight throw in Vermillion at 62' 2 ¼". Scheil also took second place for shot put marking (47' ¼").
Both the weight throw and shot put have earned her two places in the NCAA Division II. For weight throw, she is placed at fourth and in shot put at 13th.
"(62' 2 ¼") is my new personal best in the weight throw so for me this is just one step closer to the national meet in Alabama," Scheil said. "I'm going to keep pushing that mark up so hopefully I can get a good placing in national too."
Junior Kenzie Sullivan also had a great performance in weight throw and shot put. Sullivan placed in both events at Vermillion (56' 7 ½") for second in weight throw and (45' 6 ½") in shot put for fifth place, which was also a NCAA provisional mark.
WSC women's track and field team that notably placed at Vermillion include sophomore Jordyn Pester for the 400-meter dash placing fourth with the time of 1:00.21. Sophomore Ali Dykman for high jump made eighth place with a jump of 5' 2 ½".
For pole vault, sophomore Mikayla Marvin placed in tenth with 11' 2 ¼". In the men's team sophomore Aaron English made sixth in high jump (5' 11 ½").
The men and women's track and field team will continue to practice for the upcoming meet that will be on Friday, Feb. 14 at 2 p.m.
"Overall, we will have almost all of our athletes competing this Friday at the Concordia Invite in Seward, Nebraska, so we all should be able to see some more improvements as a whole from the team," Brink said. "We had almost all our mid-distance and distance athletes not competing this weekend, so that will change this weekend."