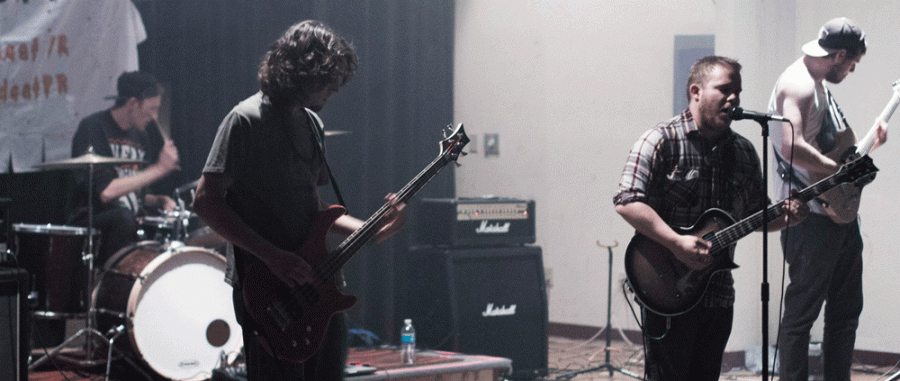 Liam Hockley
"I wasn't sure how people were going to react,"Jared Garthoff, lead singer of local band Odd Man Out, said. "But then people were asking if we had a CD and we realized how well it went."
Many musicians dream of starting their own band and performing in front of dozens of people, and Garthoff's dream came true.
From being in a band that did nothing but jam in a basement back in high school to performing at Battle of the Bands a few years ago, Garthoff has some experience in different bands..
He's now the frontman of a punk-rock band called Odd Man Out, playing guitar and singing lead vocals.
"The name came from a trend in the punk-rock genre," Garthoff said. "A lot of bands base their names from 90's material, like TV shows."
Odd Man Out received its name from a British, and later American, TV show of the same name.
Last Spring, Garthoff wanted to start a new band with his friend Chad Welchert. He invited another friend, Derek Torres, to play bass.
Their first drummer left and they invited one last friend, Jordan Brooks, to join.
They finally had their band together and were ready to work.
Brooks is also the drummer in another band, a Metalcore/Hardcore band called Live & Obey, which performs in Omaha.
"It's obviously a big difference in genres," Brooks said. "But I already knew a lot of the songs that we cover, so it's easy to get into the right groove."
The band caught a big break when they were booked as the live band for the Wildcat PR Halloween Dance at Riley's. It was their first gig since forming the band.
"I'd never even been to Riley's, so I wasn't sure what the space was like and if we'd even be able to fill it with our sound," Garthoff said. "But then we performed and got such a reaction from the crowd."
All four band members are music majors here at WSC, so the crowd at Riley's included members of the music department who were there to support their friends.
The journey to the stage has been a long road, with practices and writing and working hard to earn enough money for good equipment.
"The performance went so much better than I expected, but I wish we had better equipment," Brooks said. "But given enough time and money, we can become even better."
Plans for the band vary, from putting out a demo to booking more shows.
"We have accounts with almost every form of social media out there–even MySpace," Garthoff said. "I just want to get our sound out there as much as possible."
He says he doesn't expect to make it big, he wants nothing more than to have fun with people he gets along with and to keep playing music they enjoy.
They're working on more covers and writing their own demos. Between their work in various ensembles within the music department, they have their heads filled with music.
"All I really want is for people to listen to our music," Garthoff said. "My goal is to keep it fun and see how far we can go with this."