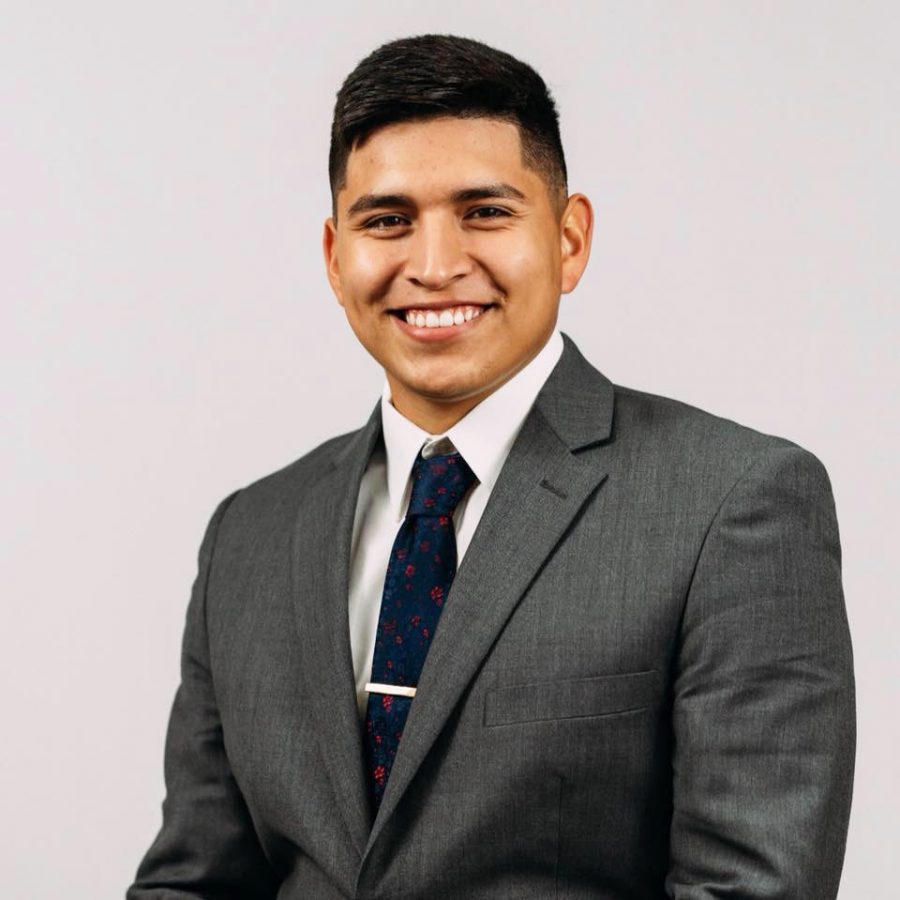 Isaac Baker
Jorge Adame and running mate Morgan Sudbeck were elected Student Senate President and Vice President for the 2019-2020 academic year after voting concluded March 1. Adame, a current member of Student Senate, made it apparent throughout his campaign that he is committed to listening to the thoughts and concerns of students at Wayne State, forming plans of action to work with students' concerns and fulfill expectations as president.
"It feels really good that the student body believes in us and believes in our ability to lead the campus in a positive way," Adame said. "There was definitely a sense of relief."
Adame and Sudbeck ran against fellow Student Senate members Adam Smith and Jackson Richling, who campaigned primarily for increased student safety and expanded diversity across the student body.
"Adam and Jackson campaigned pretty hard and they did really well," Adame said. "It was good for them to push us and for Morgan and me to push them too."
Current President Cody Wageman and Vice President Ashley VanMeeteren will continue to lead Student Senate meetings until the last week of April, when Adame and Sudbeck will then lead the floor. Adame has stressed his desire to lead in a way in which the student body will see real action taken, much like that of Wagemen and VanMeeteren
"Policy-wise, we just need to look at different things that might need change," Adame said. "And we also need to speak with our constituents. I know people have told me that the weight room might need different things here and there. Just speaking to different people and getting to know what they want [is important]."
Adame and Sudbeck have evaluated areas at Wayne State that need change, and know specific steps need to be taken to ensure that current and incoming students will have as great of an experience possible while attending Wayne State. Coordinating with administration, faculty and students on how to ensure students are comfortable on campus is something Adame hopes to do. Student safety is an area Adame does not take lightly.
Recently, Alexx Jackson, a student who resided in Anderson Hall, withdrew from courses at WSC and moved back home because of relentless bullying. As Student Senate President, Adame knows important issues like these are ones he will have to handle sensitively, but seriously.
"With things like that, I think we need to educate people," Adame said. "Maybe the people that did [the bullying] thought they were joking, or it was something funny that they were doing, but we need to educate people on what micro-aggressions are and how that truly affects people. I believe the more educated we are, the more we can avoid things like that."
In late January, an incident occurred in Bowen Hall in which freshman Kyra Wischmann caught another Wayne State student filming her in the shower. A multitude of other women came forward shortly after Wischmann's incident describing similar occurrences they experienced themselves. Since the incidents, differing point of views have been offered referring to how the occurrences were handled by law enforcement and administration.
"I thought there was a little misconnection with how [the harassement] was handled," Adame said. "I know it's a big issue and there's a lot of complexity to it, and I think administration is handling it how they need to handle it. Students may need to be more informed. Obviously, they can't know everything but really just bridging what the administration is doing, and how they're going about it with students and all the concerns, is important in having open transparency."
Adame, a business finance major and pre-law minor, is excited for the opportunity he has to represent WSC students and knows he and Sudbeck have a lot of work to do in certifying the WSC campus and community of Wayne will continue to be a prosperous environment. When his tenure is over, Adame hopes the impact he has will benefit Wayne State beyond just the time he is a student.
"[My main goal] is to be present and to act on things, not just be elected and be their president and not do anything," Adame said. "That's not only an example I can set, but it's something Cody and Ashley have done great with. I'm really glad Morgan decided to run with me. She'll be a great vice president and it will be a really good year next year."
For Smith, disappointment was the initial feeling when he learned of the election results, but it is something he plans to take as a learning experience going forward. Assuming no roadblocks occur along the way, Smith plans to run for Student Senate President again next year.
I thought we had a really good shot," Smith said. "I thought with the people we talked to and the amount of people that put in votes for us, I thought we had a really good chance. As I was thinking about it more, and as more days passed, I became a little bit more hopeful because we still have another shot to come back again and run next year."
Smith and Richling were adamant through their campaign that more steps be taken to ensure student safety and a more diverse culture on campus. While Smith knows there are areas he needs to work on to bolster his candidacy for a potential run next year, the current issues he values are ones he plans to promote through his remaining membership on Student Senate.
"I think what we needed to do was be more visible on campus earlier in the week [of the election]," Smith said. "Not just during the election, but earlier in the school year as well so people know your name. I learned a lot of things that I can do, and things I didn't do the first time around that I can do the next time around for sure. Everything I said I would try to get done as president this year, I'm going to push forward next year as a senator if I get reelected."
Smith doesn't believe that having differing views on some issues with Adame will impact his ability to positively affect Student Senate and the student body as a whole. Rather, Smith sees differing approaches to important issues as an opportunity to increase healthy discussion amongst all members of Student Senate.