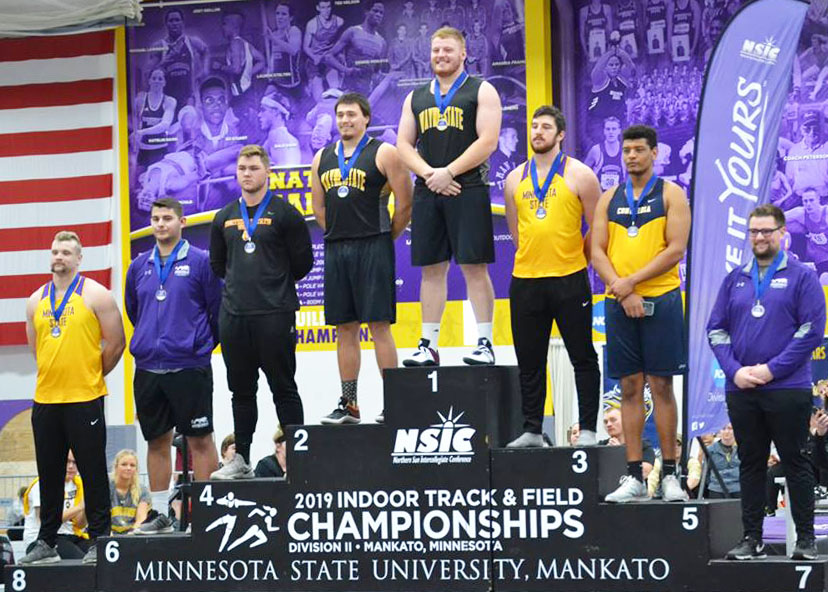 Marlon Brink
The Wildcats came home from Mankato, Minnesota for the NSIC Indoor Track and Field Championships last weekend. Head coach Marlon Brink was very pleased that they left the championships with the women making it in the top half of the competition.  Although, the men did not make it in the upper half of their competition, Brink was still pleased by their performance.
In total, there were 15 women's Track and Field teams. The Wildcat women ended up taking home the seventh place spot. They wanted to finish in the top half, and they completed that goal.
The men's team finished eighth out of the 11 teams that competed.
"We talked all season about the NSIC, so they have known since day one that the coaches wanted their best performance," Brink said. "We did not have to change anything, motivation wise, they knew what they have been trained for all season."
Sophomore McKenzie Schiel was one of the two athletes who won NSIC Honors from the meet.
"After sitting out my true freshman year this was my year to really get out and do what I knew I could," Schiel said. "This was a great first season and I am really excited to continue. Getting runner up and All-NSIC honors just makes me more excited for the future and what Wayne State Track and Field offers for me."
Schiel expressed that she wasn't expecting to do as well as she did, but was going to give it her all anyway.
"After finals were over my entire throwing team came to embrace me with a congratulations," Schiel said. "In that moment it was the highest honor I've felt being an athlete. Being on the podium surrounded by other amazing athletes was also a highlight of the weekend."
This was the last track meet for athletes who didn't qualify for nationals and with that, those athletes ended the season with some of their best marks.
"I really thought our kids competed well," Brink said. "They did not let the meet atmosphere overwhelm them. We had a lot of young kids that it was their first time competing and sometimes they get anxiety and do not compete to the best of their ability, but we scored as many points as we thought we were potentially able to."
This meet was the second biggest meet of the season, following nationals. Brink knew that everybody really had a clear purpose and sense of focus for this meet, because it was a scored meet.
"Everyone knew what their role was and focused on giving it their best effort," Brink said. "As a coach, that's all you could ask for, for them to do their best at the biggest meet of the season."
The NSIC Championships were like no other meet Schiel had ever been to before. Everything about it made her want to compete even more.
"The energy is loud, and everyone is excited to be there," Schiel said. "When I walked into the field house, I was hungry to compete, but when it came time, nerves were on high alert. When it was finally time to warm up the nerves went higher, but in the end, it was all worth it."
Brink knows that as a coach, it is good to stay even keeled and to try to not get too over excited when things go well, and do not get too low when things do not go well.
"I was pleased that we had so many young athletes," Brink said. "To see them step up and compete at a high level, that means that they have several more years ahead of them to compete well for the team. If a runner can get in the top three, that runner can make it to nationals and that is the level of competition the runners must be ready for."
Sophomore Benjamin Allen took fifth place in the shot put with a throw of  51' ¼".
"It felt good, I had been out for so long that finally making it to an indoor conference meet was a success," Allen said. "My motivation is driven by wanting to take the school record as well as overcome my injuries the past seasons."
Other notable performances for the men's team came from Cade Kalkowski and Dylan Kaup, who placed first and second respectively in the weight throw.
"My goals going into the conference meet were just to compete to the best of my ability," Kaup said. "I knew big things were going to happen, I just needed them to let them happen."
Kaup realized just how short the indoor track season is, so with trust in his coaches training, hard work, and perseverance, he  didn't waste any time to meet his goals.
Kaup also relied on help from his friends, the other throwers on the team.
"Competing with Cade, Matt, Richard, and Cole is the best," said Kaup. "We all feed off of each other's energy, and if one guy has a good throw, everyone else feeds off of it. As for the conference meet, we had four of the ten throwers in the third flight. Having that many of us in the last flight is intimidating to the other competitors, and for us it gives us a familiar atmosphere. That along with the energy that we bring, we also try to compete with one another. Just as we do in practices, we encourage each other while throwing."
Kaup noted that his conference tournament performance likely would have been much different if his teammates weren't there to support him.