Wayne State soccer falls in thriller but looks to build off the positives
The Wildcat women's soccer team lost an overtime thriller to Southern Minnesota State University on Sunday at home. Wayne State looks to build momentum off of the good plays they had in the last few games.
The 'Cats started off quick in the first half scoring three goals.
"Riley Wehner has scored three goals in the last three games which we have not had happen in a long time," head coach Joe Cleary said.
The other two goals in the game were scored by Natalie Rech off of a header, and by Madison Kemp after making a few defenders miss, and finishing it up with a beautiful shot.
The game looked promising for Wayne State at the end o_f the first half as they were up three to zero.
"After the game I just told them that that was not the result they needed at home," said Coach Cleary.
The 'Cats ended up losing the game in overtime 4-3 after SMSU made a second half comeback to force overtime. Wayne State is looking ahead to the next matchup against Minot State and are ready for the road challenge.
"The Northern Sun Intercollegiate Conference is very tough on the road and we have to play well when traveling," Cleary said.
The Wildcats head to the University of Mary to play a tough Minot State team who has been to two conference tournaments.
"It would be huge to beat them on the road," Cleary said. "We have a good team who worked hard and it will pay off."
Wildcat Soccer will be at Minot State for their match at 7 p.m. on Friday.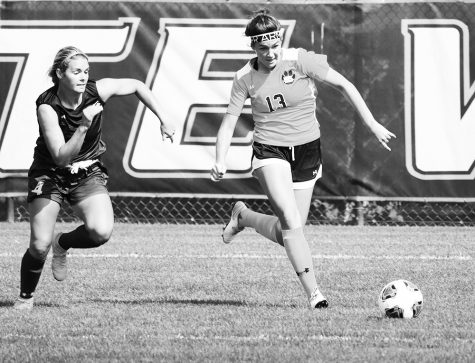 Photos by Shayla Barr