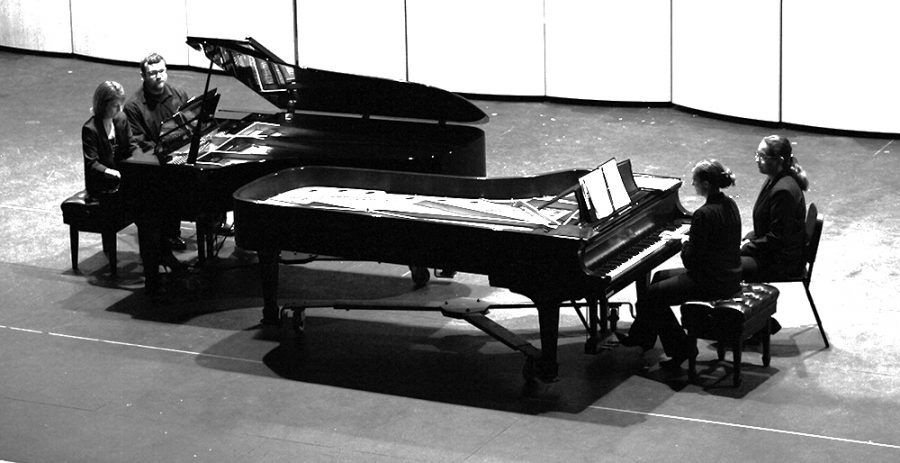 Photo by Kori Siebert
The Wayne State College Department of Music satisfied the hunger for music in students and community members alike, as two musicians performed at Ramsey Theatre on Thursday, Sept. 13.
Dr. Angela Miller-Niles and Orchestra Director Shelly Armstrong played a selection of pieces from various female composers throughout the 1800s to the 1900s. In between each piece, Dr. Miller-Niles shared background information on the artists, including where the artists learned to perform, and the expectations and challenges for female composers in their times.
As a music teacher herself, Dr. Miller-Niles always felt ecstatic about performing.
"I've played when I was a little kid, and I've always enjoyed it when I was younger," Miller-Niles said. "As a teacher, I think you have to be able to play to teach it [piano]. It's fun to keep learning new repertoire and stuff like that, just to make me better and give me stuff to do."
Students, faculty members and even Wayne community members crowded into Ramsey Theatre to hear the duo perform. Austin Burkhardt, a music education major, walked out of the theatre impressed.
"This event was very enjoyable," Burkhardt said. "I definitely liked the duo of Mrs. Armstrong and Dr. Niles. They made a good pair for this performance and I enjoyed it a lot."
But the enjoyable experience isn't the only reason students attended.
"As a music major, we are required to attend so many performances," Burkhardt said. "Personally, I do really enjoy the piano, and as a music student, I enjoy listening to piano and hope to reach their [the performers'] level of performance."
Miller-Niles and Armstrong also conducted their own academic work while performing.
"It's sort of our version of research," Miller-Niles said. "Whereas another academic program or person would do a research paper, we do research on music and perform it."
Dr. Miller Niles plans to help dazzle the audience again, as she is set to assist a performance at the Celebration of International Day of Peace on Sept. 21 at First Presbyterian Church.