WSC Student Media hosts Turkey Drop
The annual Turkey Drop at Wayne State College plunged its way off the Neihardt fire escape November 16, causing this to be the 23rd annual year.
"I got to throw stuff off the fire escape this year, so that was fun," said Emmalee Scheibe, general manager of The Cat, the WSC campus radio station. "I also liked a lot of the creativity of the items people entered. I thought it was a lot of fun."
There is an average of 10 entries per year, but only six made it to this year's Turkey Drop. Five awards were given out: Dungeons and Dragons won best dressed, The Newman Group was awarded biggest splat, The Sci-Fi Club earned the sharpshooter award, Media Club secured the longest hang-time award and WEOPA was given the people's choice award.
Scheibe helped get the word out to campus about the Turkey Drop by hanging up posters and she also helped acquire three judges for the event. The judges included David McMahan, Tom Schmitz and Tasuka Taoka.
"It was really hard to judge," Taoka said. "The good thing is, there were two other judges so we would come to our own decisions and then we would talk with each other and that kind of helped us make a decision together as a team. A lot of the entries were neck and neck."
This was Taoka's first time judging the Turkey Drop because she is new to WSC this year.
"I think just watching the 'turkeys' coming down is fun," Taoka said. "You don't always know what to expect. The ones
that are going for biggest splat, everybody is looking at it and, you know something is going to happen but you're not exactly sure what's going to happen when it hits the ground. Just that anticipation is kind of fun."
Taoka also mentioned the wind being an interesting factor because she didn't know which ones would catch in the wind.
Winning the people's choice award this year was WEOPA (Wayne Educational Office Professional Association). The group has won awards four out of the five years they have entered in the Turkey Drop.
"It's just kind of good, clean fun," said Joyce Trevett, representing WEOPA in the Turkey Drop. "There have been some really crazy entries over the years like T.V.'s and microwaves, this year we didn't really have the big stuff, but I think next year they're going to encourage people to bring stuff that does more of a splat and noise."
Trevett always puts WEOPA instead of her own name to "bring a little attention to the cause."
"Every year we have a live radio feed where we do play-by-play, which is just a fun little thing we do and then this year we also had live video thanks to CatVision 6," Scheibe said. "Everyone here at the station worked really hard on the Turkey Drop, and I'm proud of the staff and how everything turned out."
About the Contributor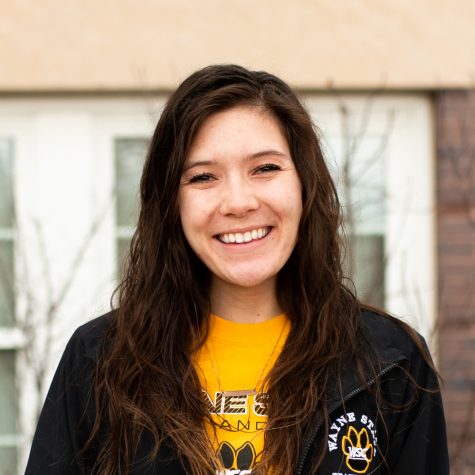 Kori Siebert, Photo editor
Kori Siebert is from Benedict, NE and graduated from Heartland Community Schools in 2017. She is currently a sophomore and is majoring in Speech Communications...