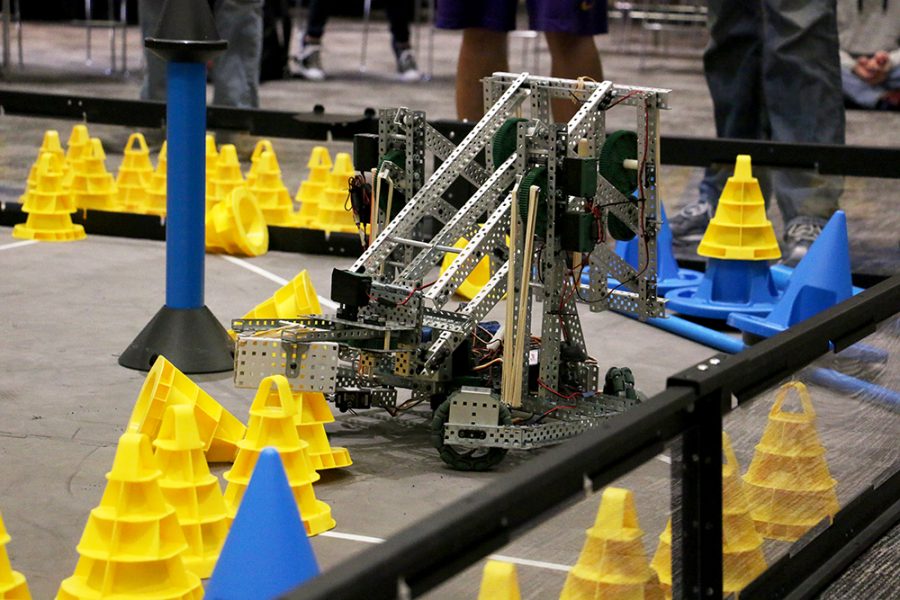 Kori Siebert
Robots were in action at Wayne State College last Wednesday October 18. The event was the first of three competitions taking place this year. The next competition will be in December and then a final competition will happen in February.
"Back when we started working on it in 2005-2006, (the robotics competition) was envisioned as a way of bringing both high school teams and higher education teams together so that the high school students could see some of the things the college students were working on," said prof. Tim Garvin prof. of the Department of Computer Technology and Information Systems.
In the past, Garvin has helped with the competition in many ways. In the past he has been an event coordinator, robot inspector, helper and has been assigned to check frequencies of the robots' remote controls in the past.
Molly Curnyn, associate professor of computer technology, has been the coach, helper and an assistant with the robotics competition. Since Curnyn teaches robotics classes, her students participate in the competitions where they program, compete and achieve certain goals for their robots.
"They have to build a robot that can be competitive across multiple different tasks," said Garvin.
He compared the multiple tasks robots must complete to a triathlon athlete, explaining that the robots have to do well in various activities to place in the competition.
Curnyn also agreed with Garvin and said there was a lot of uniqueness in each competition.
Medals and trophies are given out at each competition, but scores are gathered over the whole season, so at the end there will be a grand champion trophy awarded.
"Really what's very interesting about it, and I've always thought this, is how creative the different teams are," said Curnyn. "We all have the same goal we need to achieve, but all the robots are built just a little different and have a different way of solving the problem. What you'll see is a lot of different robots, built differently, programed differently trying to achieve the same goal. Some will be real successful and some won't, and that's what's so nice about this first event is that it gives us a chance to work out bugs and see what works best for us."
Though the process of bringing robotics teams to Wayne started in 2005, the competitions didn't start until 2007.
Curnyn came one year after, and she said the competitions have transformed, evolved and grown since it started.
"(My favorite part of the competition is) seeing how creative students can be, giving them the opportunity to think a little bit differently, their curiosity in building and how they think so much differently," said Curnyn.
Garvin said that seeing the joy on the students' faces is his favorite part of robot competitions, though some robots may not perform how they're designed to in real competitions.
The next robotic competition will take place in December at Northeast.