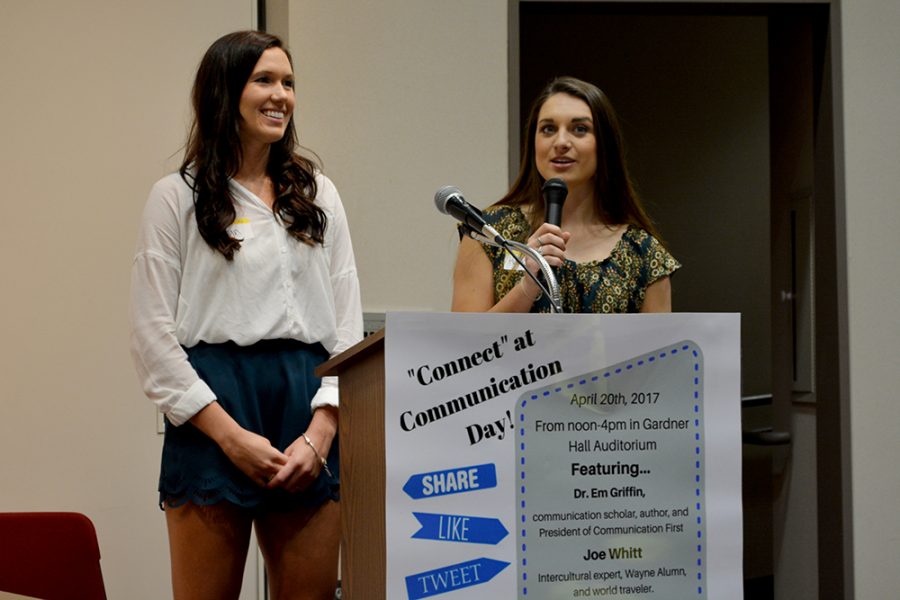 Liz Wallace
WSC held its fifth annual Communication Day, celebrating how communication can and has improved the lives of many. The festivities were held Thursday in Gardner Hall and consisted of a student panel, a business panel and keynote speakers Joe Whitt and Dr. Em Griffin.
"Our communication and our connection has evolved from a very primitive place where, first, our way of connecting across distances was to light a fire and have a smoke signal to the people way across a physical ridge or a mountain," Joe Whitt said during his speech. "That was our way of communicating across distances before telephones."
Communication Day is an event that is put on entirely by students who are studying communication and can understand the importance of our abilities to converse in a variety of ways.
"Comm. Day was a great success—the students did a remarkable job of bringing together experts and people that we know to celebrate communication," said Deb Whitt, chair of the Communication Arts Department.
The day was filled with a wide variety of presentations that covered the different facets and uses of our communication skills.
"We chose a student panel and a business panel because connecting online and face-to-face is an issue that not only affects young people, but also members of our workforce from all age ranges," student Kristen Ohnoutka said. "We chose these specific members from each based primarily on the facts that they all are involved in a variety of different fields. The students are all students who are not only communication majors, but also have a major in another subject area. Then, the members of the business panel were all chosen based on the facts that they are all communication experts who are also actively involved in their communities."
The student panel consisted of Matt Mullins, Henry Miller, Caleb Hayden, Courtney Upah, Kelley Robinson and Hailey Koeppe.
The business panel consisted of Jay Collier, Lukas Rix, Amanda Polacek and Sandy Brown.
"I love the incorporation of our community leaders on Comm. Day," Deb Whitt said. "I love the integration of our communication research by bringing in a communication theorist and also the idea of bringing in a recent alum to talk about their experience and how they're utilizing their communication degree."
The day was packed with useful information and interesting people to present it.
"I'd definitely say this year's Communication Day was a success," Ohnoutka said. "We provided students with the opportunity to learn more about the field of communication and better prepare themselves for the workforce; which is always valuable information. The only downside was a smaller crowd. But even if just one person learned something at Communication Day, it would have been worth it for us to provide them that opportunity."